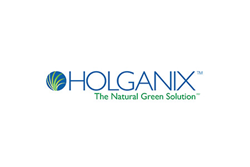 We're excited about how the Holganix product line helps develop a strong turf-root system which in turn creates beautiful healthy lawns for our clients
Philadelphia, PA (PRWEB) March 26, 2014
Holganix, a manufacturer of sustainable bio-nutritional turf, flower and tree products, announced that Total Lawn Care (TLC) of Indianapolis was the winner of its Roots for You competition. With a 13-inch turf-root, it was no surprise that Total Lawn Care took home the prize.
Holganix set out to discover some of the deepest, strongest and healthiest turf-root systems in America, and in doing so created its Roots for You competition. As the winner, Total Lawn Care received a $500 cash prize, in addition to a $500 cash donation made in its name to PLANET (Professional Landcare Network) which is the landscape industry's premier trade association.
Terry Jungles, founder and CEO of Total Lawn Care, said, "We're excited about how the Holganix product line helps develop a strong turf-root system which in turn creates beautiful healthy lawns for our clients."
According to Dr. Neidermyer, Director of Soil and Plant Sciences at Holganix, having a strong and deep root system is important for your lawn because it directly correlates to the overall health of the turf. Having deep and strong roots mean the plants can better absorb moisture and nutrients, creating a healthier turf that is more resistant to droughts and other turf-related problems, naturally.
Drought damage has always been a concern for Total Lawn Care, where according to Jungles, "Indianapolis tends to have drought-like and extreme-heat conditions lasting up to ten weeks in the summer." The Holganix sustainable line has helped Total Lawn Care clients' turf recover faster from drought, versus the time it took the turf to recover with conventional lawn-care products the company had used in the past.
About Total Lawn Care, Inc:
Total Lawn Care, Inc. (TLC) was established in 1989 in Indianapolis, Indiana. TLC services the Indianapolis and surrounding areas placing the environment, lawn agronomics and the needs of its customers first. TLC is committed to providing quality lawn-care service. http://tlctotallawncare.net/
About Holganix:
Holganix is a 100% organic bio-nutritional product that promotes strong turf, shrub, flower and tree health care. Holganix also functions as a bio-stimulant by enabling plants to more efficiently uptake beneficial nutrients. Holganix significantly lower the quantities of chemical inputs needed to obtain the results previously only available through the use of traditional products. http://www.Holganix.com
Press Contact:
Nicole M. Wise -866-56-EARTH, nwise(at)holganix(dot)com