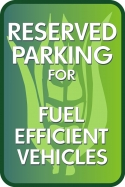 Arvada, CO (PRWEB) March 31, 2014
Is your business looking to become more sustainable? Becoming a "greener" company doesn't have to take a lot of time or money – Stonehouse Signs, a Colorado company that manufactures signs, tags and custom printed magnetic whiteboards, has five easy, cost-effective tips to help businesses reduce their environmental impact.
Tip One: Choose long-lasting materials. One of the easiest ways to reduce your business's environmental impact is to reduce the amount of trash thrown away each year. Select long-lasting, high-quality materials to ensure you won't be replacing items more than you need to, saving both the planet and your budget. For instance, Stonehouse's
LxSigns have a 15 year guarantee, and our Baked Enamel Signs have a 5 – 10 year expected life. By choosing long lasting materials for your business products like your business or emergency signs, you won't be replacing these items more than you have to, and will reduce the amount of waste you contribute.
Tip Two: Research your vendors. Another easy way to make your business more sustainable is to ensure the vendors your purchase from are environmentally-friendly. Ask them about their sustainability programs, including if they recycle, if they use alternative energy, and more.
Tip Three: Implement a recycling program. About 75 percent of solid waste thrown away is recyclable according to the Environmental Protection Agency (EPA). To implement a recycling program at your business, first identify what your business throws away that can be recycled. Then contact your local recycler to ask about pickup and what type of materials they accept. If you have items they won't commonly accept, such as batteries or light bulbs, you can research alternative recyclers. For instance, ask your supplier if they recycle the products they sell – many hardware stores, for instance, will take back used products that they sell. Finally, set up accessible recycling points around the office, and be sure to mark these with the appropriate recycling signs to increase awareness.
Tip Four: Reduce your energy usage. Buildings accounted for 72 percent of total U.S. electric consumption in 2006 and almost 40 percent of total energy consumption according to the EPA. A simple way to reduce this amount and to save money in the process is to remind building users to conserve energy when they can. Try using one of Stonehouse's Energy Conservation Signs, like our "Turn Out Lights When Not in Use" or our "Save Energy Close Doors" signs. You can even create a custom self-adhesive vinyl decal to stick near equipment or light switches. Sometimes simple reminders can add up to a big impact!
Tip Five: Look into LEED certification standards. A LEED certified building takes time and money to accomplish; however, you can also follow the LEED guidelines to help your building be more environmentally friendly without becoming officially certified. For instance, LEED suggests designating a certain number of parking spots as hybrid vehicle parking only or electric vehicle parking only. That's an easy way to encourage environmental behavior for customers or employees.
###
Since its founding in 1863, Stonehouse Signs has produced high-quality visual communications solutions for a variety of industries. The company specializes in customizable products and manufactures a full line of long-lasting signs, tags, and custom magnetic dry erase whiteboards. For more information call 1-800-525-0456 or visit http://www.stonehousesigns.com.