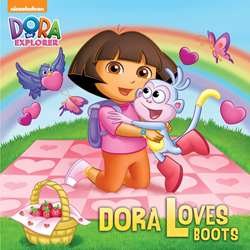 Kids' books are an integral and important part of the Kobo catalogue, and we're excited to be growing the category by adding top-rated Nickelodeon titles.
Toronto, Ontario (PRWEB) March 27, 2014
Kobo, a global leader in eReading, today announced it has signed an agreement with Nickelodeon Publishing to make hundreds of favourite series and titles available to millions of Kobo Readers worldwide. More than 250 top eBook titles from iconic children's series including Bubble Guppies, Blue's Clues, The Backyardigans, Dora the Explorer, SpongeBob SquarePants, and Teenage Mutant Ninja Turtles are now available at Kobo.com. Featured titles include: Dora's Easter Basket, Dora Loves Boots, Camp SpongeBob, SpongeBob Goes to the Doctor, and more.
Readers can enjoy these illustrated books on Kobo devices, such as the full-colour Kobo Arc 7HD Android tablet, or via reading apps available for most popular tablets and smartphones.
"Kids' books are an integral and important part of the Kobo catalogue, and we're excited to be growing the category by adding top-rated Nickelodeon titles," said Michael Tamblyn, President and Chief Content Officer, Kobo. "Nickelodeon has a strong history of igniting the imaginations of children and creating characters that become like favourite friends and we are happy to be a part of their cross-platform storytelling world, bringing their books to more children globally."
"Given the global popularity of their reading devices, we are excited to launch Nickelodeon eBooks on Kobo," said Paula Allen, Senior Vice President of Global Publishing, Nickelodeon. "At Nickelodeon, our books extend the storytelling and educational curriculum featured in our award-winning programming. We're delighted that kids and parents can enjoy reading and learning together on Kobo devices."
The Kobo's Kids Store, which offer nearly 100,000 titles, makes it easier to find the next great book for children and young adult Readers, with the latest bestselling series, Read Along books, and colourful picture-books. Kobo offers parents the ability to set up dedicated accounts for their kids so that they can safely explore the amazing books within the Kobo eBookstore. Kobo gives parents the ability to set spending allowances for their kids, pre-select eBooks, and adjust search settings to keep their kids reading safely. Parents can also set reading goals for kids and track their progress with engaging reading stats – all features designed to make eReading an educational, fun, and friendly experience. The dedicated Kids' Store is currently available in North America.
About Kobo Inc.
Kobo Inc. is one of the world's fastest-growing eReading services offering more than 4-million eBooks and magazines to millions of customers in 190 countries. Believing that consumers should have the freedom to read any book on any device, Kobo provides consumers with a choice when reading. Kobo offers an eReader for everyone with a wide variety of E Ink eReaders and Google-Certified Android tablets to suit any Reader's style including the award-winning Kobo Touch™, Kobo Mini, Kobo Glo, Kobo Aura, Kobo Aura HD, Kobo Arc, Kobo Arc 7, Kobo Arc 7HD, and Kobo Arc 10HD. Along with the company's free top-ranking eReading apps for Apple®, BlackBerry®, Android®, and Windows®, Kobo ensures the next great read is just a page-turn away. Headquartered in Toronto and owned by Tokyo-based Rakuten, Kobo eReaders can be found in major retail chains around the world.
About Nickelodeon
Nickelodeon is one of the most globally recognized and widely distributed multimedia entertainment brands for kids and family. It has built a diverse, global business by putting kids first in everything it does. The company's portfolio includes television programming and production around the world, plus special events, consumer products, digital offerings, recreation, books, feature films and pro-social initiatives. Nickelodeon's brands are seen globally in more than 500 million households across more than 130 territories, via more than 70 locally programmed channels and branded blocks. Outside of the United States, Nickelodeon is part of Viacom International Media Networks, a division of Viacom Inc., one of the world's leading creators of programming and content across all media platforms.
For more information please contact:
Rene d'Entremont
Manager, Public Relations
416-977-8737 x3587
rdentremont(at)kobo(dot)com
Jennifer Needham
Nickelodeon (Viacom International Media Networks)
+44.203.580.2100
Jennifer(dot)needham(at)vimn(dot)com