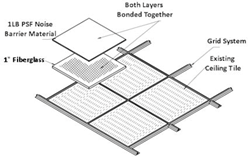 Noise barrier ceiling tiles are die cut to sit on the top of standard lay-in ceiling tiles to reduce office-to-office or factory-to-office noise.
Agawam, MA (PRWEB) March 28, 2014
Sound Seal noise barrier ceiling tile covers is the solution for office privacy. Even with standard drywall construction, voices can still be heard between the adjacent offices. Why is that?
Voices heard between offices most often are not going through the wall but over the top of the wall through the acoustic ceiling tiles. Acoustic ceiling tiles are designed so your voice (or other sounds) do not echo or reflect back to you. The acoustic ceiling tiles lets your voice or other noise travel through the light-weight, cardboard-like ceiling tile into the adjacent offices.
In cases where the voice or noise is flanking over the existing ceiling tile, Sound Seal, a manufacturer of noise control products located in Agawam MA, has recommended "Noise Barrier Ceiling Tile Covers" (NBCTC) which consist of a flexible mass loaded vinyl noise barrier bonded to a 1" thick acoustical fiberglass.
These noise barrier ceiling tile covers are sized to fit 24 x24 and 24 X 48" standard ceiling tile. Since any uncovered areas would allow noise leakage, even the florescent light fixtures are topped with an over-sized (NBCTC) that conforms to the top of the light fixture.
These easy-to-install, low-cost noise barrier ceiling tile covers are the best solution for speech privacy in any office environment.
For more information on noise barrier ceiling tiles, visit http://www.soundcurtains.com/tech_data_sheets/NBCT.pdf.
About Sound Seal
Sound Seal offers a wide product selection to the soundproofing industry. Sound Seal has stayed true to this vision and consists of three product lines: The Industrial Division manufactures products designed to reduce noise in a wide variety of industrial applications our industrial noise control products feature noise control products, acoustic enclosures, mass loaded vinyl noise barriers, wall absorbers, indoor enclosures, flexible noise barriers and other soundproofing products. The Architectural Division which handles interiors, and the Impacta Flooring Division which deals with floor underlayments.