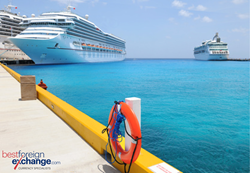 "We offer the most competitive exchange rates for Euro, East Caribbean Dollars, Mexican Pesos, and Croatian Korans which are popular among cruise passengers"
London, UK (PRWEB UK) 10 April 2014
UK cruise passenger departures exceeded one million in 2013 and over 860,000 passengers arrived to UK by sea reported "Travel Weekly" on 12th March 2014. The report further suggested that this is a 20% increase compared to 2012.
"These figures are extremely encouraging and the signs of positive endorsement of economic recovery," stated Trevor Samuel, the Marketing Manager at Best Foreign Exchange.com.
The most popular cruise destinations of UK travellers are Mediterranean, South pacific and Caribbean. In addition Mexican Riviera, Hawaiian Islands and Baltic Sea also attract attention of many cruise travellers.
"We offer the most competitive exchange rates for Euro, East Caribbean Dollars, Mexican Pesos, and Croatian Kunas which are popular among cruise passengers," Trevor continued.
However these attractive exchange rates are sometimes not offered during the peak season. "My advice is to buy currencies in advance, avoiding poor rates at ports and last minute rush," concluded Trevor Samuel.
About Best Foreign Exchange.com
Owned and operated by Thomas Exchange Global, BestForeignExchange.com offers the most competitive exchange rates in London and customers that reserve currencies online will be assured the same exchange rate until close of business on the particular day despite any adverse fluctuations. They stock the widest range of foreign currencies in London with over 120 types of foreign bank notes. All foreign currency buy/sell transactions are free of any commission or charges.
Thomas Exchange Global also offers International Money Transfer Service where funds can be remitted to overseas bank accounts within 1 to 2 days. With commission free service for transfers over £10,000 backed by competitive exchange rates, customers are assured of a better deal and a substantial saving compared to banks and money brokers. Thomas Exchange Global branches are located at Strand, Victoria Street, Liverpool Street, Hammersmith, Cannon Street and Wormwood Street.
For further details, visit http://www.thomasexchangeglobal.co.uk or call 020 7240 1214.