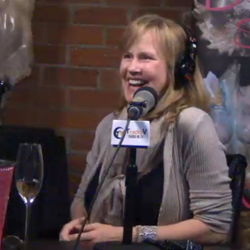 Everyone reveals beauty in their own way and my goal is to make them even more beautiful with light
Los Angeles, CA (PRWEB) March 27, 2014
TradioV's "Artful Undress" a radio in TV show, can't seem to get enough of fine art boudoir photographer Linnea Lenkus. The Los Angeles photographer was asked to be a guest on the show in January and then again in March to discuss the importance of the bare theme as it relates to her own fine art female photography. Hosts Kira Pandukht and Polina Hryn took the March show to a completely different level as they revealed their experience with Lenkus in their own fine art boudoir photography session.
Lenkus offered the boudoir portrait session to the "Artful Undress" hosts as a way for them to experience the beauty of the body and the freedom of expressing its form first hand, which is what the show's theme is dedicated to. Pandukht, a Laguna Beach sculpture artist that goes by the name Kira, admits that she was reluctant to completely undress in the portrait session because of her own vulnerability. Kira later compared the portrait sitting with Lenkus to a therapy session and said that the entire experience was "transformative" and that Lenkus "took away her armor."
Lenkus has been a fine art photographer for over 20 years and has been consistently praised for not only her artistry but for the way she captures it. "I always look at my client's bodies objectively," shared Lenkus. "My job is to create an environment that exudes happiness and that is free of judgment. Everyone reveals beauty in their own way and my goal is to make them even more beautiful with light." Hyrn told her audience on the show that Lenkus truly has the eye for art and knows what does and doesn't look right. Both Kira and Hyrn told Linnea that they were "honored" to be photographed by her. Both segments featuring fine art photographer Linnea Lenkus can be viewed on TradioV.com/la
About Linnea Lenkus
Los Angeles photographer, Linnea Lenkus, specializes in Maternity, Children, Family and Celebrity photography as well as Fine Art Boudoir photography. Linnea is a highly experienced, internationally published, professional photographer with worldwide commercial success. In a photography session with Linnea, clients receive the benefit of her artistic eye and her technical mastery honed over decades of photography experience. Linnea Lenkus is the owner of two fine art portrait studios located in Pasadena and Long Beach California and the owner and curator of Los Angeles art gallery, Linus Galleries. See a photography video of Lenkus in action.