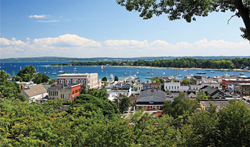 Petoskey, MI (PRWEB) March 27, 2014
New Petoskey Area Video Comes at a Perfect Time
The Petoskey Area Visitors Bureau has released a new video, "The Petoskey Area. Where Fun Comes in Waves.", highlighting the area's enormous summer appeal, with a particular emphasis on water activities.
After a winter in which Michigan and many other states have experienced record snowfall and bitter cold, this video gives promise of long, sunshiny days, gentle breezes and the Million Dollar Sunsets this area of northwest lower Michigan is known for.
The 2 ½ minute video focuses on the nautical spirit of the lakeside communities that comprise the Petoskey Area: Petoskey, Harbor Springs, Bay Harbor and Boyne City. Seen through the eyes of a child, viewers will experience the area's breathtaking beauty and get a taste of the fun-filled opportunities that await; whether on the beach, in a boat, in the water, or parasailing over it.
After watching the video, you'll be hard pressed not to start making your vacation plans right away. At the very least, scene after scene of sparkling waters and blue skies will help get you through the upcoming weeks as the snow finally gives way to the warmth of summer.
The video was produced by Lake Street Media in Petoskey. Sit back, relax and watch summer unfold in the Petoskey Area — it's just a click away (bit.ly/PetoskeyAreaWater).
For information on lodging and activities, visit PetoskeyArea.com. Or call the Visitors Bureau for a FREE Vacation Guide. 800.845.2828.
###
Contact:
Peter Fitzsimons, Peter(at)PetoskeyArea(dot)com
Diane Dakins, Diane(at)PetoskeyArea(dot)com
800-845-2828