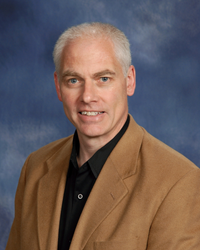 I very much look forward to being in ministry with you as we seek to know Christ and to make Christ known. – Rev. Daniel Humbert
Flower Mound, TX (PRWEB) March 26, 2014
Trietsch Memorial UMC is proud to announce that a new pastor will be joining the church. Rev. Daniel Humbert will be the new senior pastor.
On joining the church community, Rev. Humbert said, "I very much look forward to being in ministry with you as we seek to know Christ and to make Christ known."
Rev. Humbert has many years of ministry experience and is currently serving as the senior pastor of Fellowship UMC in Trophy Club. His first Sunday at Trietsch will be April 6. All are invited to come welcome and meet the new pastor at one of two Welcome receptions on April 6th and April 13th immediately following the 11:00 services.
"He is a solid individual with a proven track record of faithful service," said Rev. Karen Chraska, minister of music and worship at Trietsch Memorial UMC. "I am excited to work with him at Trietsch!"
Trietsch Memorial UMC offers four worship services every Sunday:
8 a.m. – Traditional Worship with Holy Communion
9:30 a.m. – Contemporary Worship in Sanctuary
11 a.m. – Sanctuary Blended Worship with Choir and Orchestra
11 a.m. – NewDay Contemporary Worship in the Family Life Center
For more information about Rev. Humbert and Trietsch Memorial UMC, visit http://www.tmumc.org/.
About the church:
Trietsch Memorial United Methodist Church believes it is called to make disciples of Jesus Christ. Celebratory worship is important to them, and they value praising God, children and youth in worship, as well as relevant biblical messages. They want people to be who they are, to feel the love of the congregation and the love of Christ, and be filled with His love and grace. When people leave church, Trietsch wants them to spread the love of God to others in any way they feel called. Reaching out into the community and world in loving kindness is valued at Trietsch. They reach out to others locally, nationally and internationally and are blessed to be a blessing to others. Learn more at http://www.tmumc.org/.