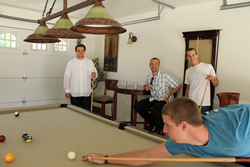 "We didn't cause it, we can't cure it, we can't control it."
Los Angeles, CA (PRWEB) April 01, 2014
Mike Joly, CEO of New Life House, has specialized in creating an extensive recovery community for young adults over the past seventeen years. Working with substance abusers and their families, he has encountered the obstacle that keeps parents from making informed decisions regarding their son's treatment options. Joly found that many times the rush to make a decision leads the parent to choosing a recovery option based on emotions and not due diligence. Joly developed these tips as a way to help parents gauge the most suitable and established road to recovery for their sons.
1. Breathe. Begin your search in the calmest manner possible. Don't let your feelings make your decisions, let the facts speak.
2. Staying away from home. The greatest chance for success lies in the addict temporarily moving away from his using territory. This gives a needed respite from the distractions that got him in trouble in the first place. Removing him from his using neighborhood where every corner is a trigger, the dealer, unhealthy relationships, etc. gives him the opportunity to focus on learning new tools and solutions for living a healthy and productive life.
3. Look for places that have longer programs. 30 – 60 – 90 day treatment is too good to be true. Addiction didn't happen overnight and it takes a lengthier stay to adequately address the underlying causes.
4. A structured environment. This might sound severe but this is where you need to fight fire with fire. Lack of a stable, alcohol and drug-free living environment can be a serious obstacle to sustained abstinence. Destructive living environments can derail recovery for even highly motivated individuals. There is little or no accountability in an unstructured recovery home and it is not uncommon to hear that drugs and alcohol are on the premises resulting in relapse. Structure creates endurance.
5. Focusing the search on an age-specific option is paramount. A peer-centered environment is the most positive catalyst for growth. Young men will identify with someone close to their own age before they identify with the 55 year old man who has lost everything and is going through a divorce.
6. Find a recovery community. Where there is an age-specific choice there will most likely be a community. Young people want to look into their future and see friendship and fun, otherwise what is the point of being sober? When they recover together, young people develop relationships based on value, purpose and fun. A recovery community provides a way to enjoy life with others who are traveling a similar road.
7. Family involvement – Search out a place that encourages and supports family involvement and Al Anon attendance. Addiction is known as the family disease and when a parent can stay involved in the process, attend weekly parent meetings, dinners, participate in a parent mentor program and receive weekly updates, the chance for success is increased. Locate a recovery home that keeps the out-of-town parent in close contact too, sends weekly updates, provides parent mentors and encourages visits.
8. Don't let the bells and whistles fool you! Recovery is hard work with a fantastic payoff – a healthy productive life free of drugs and alcohol. There is no evidence that an expensive program that focuses on fancy regimes is more successful than an unassuming bare bones 12-step approach. If a program boasts yoga, kickboxing, surfing, movies, art classes, college, etc. then when are they concentrating on learning and practicing solutions to living sober?
9. Connect. When you locate what you think is a viable option, ask to be connected with a parent or family member of someone currently in the extended care. Ask to be connected to a "graduate parent" of a young man who has completed his stay there and has at least 1 year outside of the facility living successfully on his own.
Joly says that the best thing for parents to do is to become educated about alcohol and drug abuse and take their time finding the most appropriate solution. He urges parents to talk to other parents and attend Al Anon meetings. "I can't tell you how many parents act irrationally in a state of panic over their child's drugs abuse," he says. "Parents tend to make decisions about treatment based on emotions rather than research." According to Joly, parents are best prepared to face the challenges of recovery if they understand what their kids are going through while receiving their own support through therapy, Al Anon or church groups.
To find out more how New Life House can help young men find long term sobriety click here. The appropriate recovery community will successfully treat many behavioral and mental health issues coupled with drug and alcohol addiction.