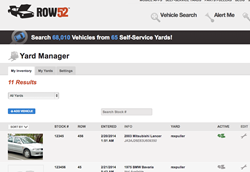 San Francisco, CA (PRWEB) March 27, 2014
ROW52™ Yard Manager™ allows self-service automotive recycling yards to easily display their vehicle inventory on ROW52's web and mobile platform. By displaying their inventory on ROW52, self-service yards benefit by making their inventory accessible to ROW52's global community of parts seekers and Parts Pullers™. Self-service yard operators can either claim their yard from ROW52's pre-populated directory of North American self-service yards, or add their yard to the directory themselves. Using the entirely web-based ROW52 Yard Manager a yard operator can edit their business and yard profile, enter inventory using just the VIN, and attach an image of the vehicle. ROW52 also offers an automated integration with inventory management systems such as Hollander™ and CRUSH™. Once inventory is added to ROW52, it becomes available to users via ROW52's novel search and alert features on ROW52.com and the ROW52 Search Junkyards™ apps for iOS™ and Android™.
About automotive recycling
An estimated 70% of the 1 billion vehicles on North American roads are model years greater than 10 years old. Original equipment (OE) repair and replacement parts for these vehicles are often obsolete, scarce or expensive. Self-service automotive recycling yards, which allow customers to bring their own tools and remove the parts they need, have long been the best source for obtaining recycled OE parts at a low price. Due to the nature of the self-service business model, however, most consumers seeking parts either do not live near a yard or do not have the desire to remove the parts themselves. There are an estimated 500 to 700 self-service yards, with over 1 million vehicles in inventory, across North America, ranging from large operators such as LKQ, Pick-n-Pull, and U-Pull-and-Pay, to independent and small-yard operators.
About ROW52
ROW52, launched in Spring 2013, enables part seekers, including individual consumers, parts resellers, and small automotive repair shops, to obtain parts from self-service yards through a social commerce model. Individuals who live near a self-service yard can designate themselves as a Parts Puller, and through ROW52, fulfill parts requests from parts seekers worldwide.