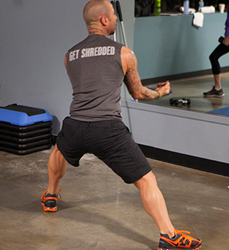 BodyShred is truly unique in that you get a complete, total body workout in just 30 minutes.
Dallas, Texas (PRWEB) March 27, 2014
Jillian Michaels' BodyShred is a high-intensity, endurance-based fitness program designed and trademarked by NBC's "The Biggest Loser" world-renowned fitness trainer, Jillian Michaels.
The 30-minute group exercise fitness class is uniquely structured so participants will burn fat, build muscle and transform their entire physique, enhancing overall health and athletic performance. It is an "intelligent training" interval class that mixes high intensity interval training (HIIT) with weights and cardio in varying intervals.
Jillian Michaels' BodyShred is now available to the Dallas market exclusively at SWEAT, a gym located in the Highland Park and University Park areas of Dallas.
Fitness instructor, Mark Shipman, is the first to be BodyShred certified in Dallas and teaches the BodyShred classes at SWEAT three times each week. Classes are held Mondays and Fridays at 6 a.m. and Saturdays at 11 a.m. View the class schedule here.
"BodyShred is truly unique in that you get a complete, total body workout in just 30 minutes," says Shipman. "With a setup of circuits including resistance, cardio and core, you'll go non-stop for 30 minutes. The greatest benefit is that after a BodyShred workout, your body will continue burning calories at a higher rate for 24 to 72 hours post-workout."
BodyShred is an ideal workout for people of all fitness levels who want to shred body fat and build muscle. Shipman is able to alter the workout depending on the individual's fitness level. Shipman also specified that individuals with a history of ongoing injuries may be limited in their progress with BodyShred, and may experience better results with a lower-impact workout.
BodyShred is available to members and non-members on a first-come, first-served basis with priority given to members. Non-members can purchase a 10-class punch card for $100.
"BodyShred is a fun challenge for your body," says Shipman. "It utilizes several different fitness modalities, like HIIT and yoga for a non-stop, high intensity, yet fun workout."
About SWEAT
SWEAT is an upscale, high-energy, industrial-style workout environment unmatched in providing a unique and comprehensive fitness experience in a sophisticated setting for individuals who are passionate about fitness. SWEAT will keep a constant pulse on the ever-changing trends in the fitness industry, ensuring that members always are current with the latest research in fitness technology. SWEAT is located in the legendary Inwood Village shopping center.