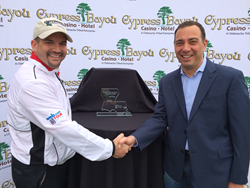 (PRWEB) March 26, 2014
The new Chitimacha Louisiana Open trophy was unveiled this morning at a press event at Le Triomphe. Cypress Bayou Casino Hotel CEO and General Manager Anthony Patrone and Tournament Director Danny Jones were on hand to present the new look.
"With this being the only Louisiana event on the web.com tour, we felt it was important to make the trophy feel more representative of our state. This is the first time the trophy has changed in more than 15 years. Lee Michaels did a great job creating the look and feel that we wanted. We are also excited that Monday morning, our new champion and new trophy will be seen in Times Square on the Nasdaq board," said Patrone.
The Chitimacha Louisiana Open kicks off tomorrow morning and the champion will be crowned Sunday afternoon.