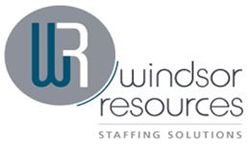 As a leader in the talent acquisition industry, Windsor Resources is able to champion diversity as a means of creating new opportunities for employment.
New York, NY (PRWEB) March 28, 2014
Each February and March marks a time for celebration and recognition of diversity in America with a focus on Black History and Women's History. This year, Windsor Resources capitalizes on that focus by releasing a case study which examines the internal diversity and inclusion environment within their staffing organization.
A former Diversity and Inclusion Executive, Shaunice Hawkins, defines 'diversity' and 'inclusion' in his own words, "Consider Diversity as the noun describing 'who' (individuals) and 'what' (similarities, differences), and Inclusion as the action verb that informs 'how' (ways, means). In other words, Diversity is the essence of who we are and what makes us, us. It is the acknowledgement, recognition, value and respect of our individual uniqueness. Inclusion is the act of incorporating said uniqueness (via our voices, perspectives, ideas and ideals) into policies, practices, procedures and innovation, which in turn, makes products and services better."
The first action for this case study was to take an honest look at Windsor Resources internal hiring practices and workplace demographics. As an Equal Opportunity Employer, it is the company's mission to ensure fairness, equity and diversity while also attracting, hiring, compensating, motivating and promoting a top performing workforce. As a leader in the talent acquisition industry, Windsor Resources is able to champion diversity as a means of creating new opportunities for employment. Still, the question persists – do they practice what they preach? A bit of research revealed some interesting numbers to help answer that question:

The Executive Team: 50% women and 25%/women of color
Ethnicity: People of color - 17%
Gender: Women - 70%
Service: Veterans - 6%
Age: Baby Boomers - 30%; Gen X'ers - 54%; Millenials - 16%
Sexual Orientation: LGBT - 10%
Education: B.A, B.S - 70%; Secondary Degrees - 10%
These numbers are as 'organic' as the Windsor Resources CEO, John Schapiro who hires and promotes based strictly on talent and experience. Their internal 'Diversity and Inclusion' plan has been the natural result of meritocratic thinking and hiring, and it works.
How does Windsor Resources know their 'Diversity and Inclusion Plan' is working?

The retention rate is at 94% – extremely rare in the staffing industry.
To date, they haven't had any Employee Relations issues or complaints regarding discrimination.
To date, they have not had any complaints that warranted sensitivity training or focus groups to uncover hidden biases. This is not to say that these practices are not important and even necessary, they simply haven't had the need for them as reaction to a complaint.
Using sales as an indicator of how a diverse group of employees can grow an organization, it is worth noting that in just four short years Windsor Resources has increased sales through the growth of 3 new divisions and a second downtown Wall Street location.
They are known by clients and candidates to have strong employee recognition programs that include making charitable donations and offering extra PTO to employees towards organizations like Stomp Out Bullying.
As Shaunice mentioned, Inclusion refers to taking the perspectives of the employees and using them to make a better product. At Windsor, the product is the high quality service that is provided. Success stems from the type of collaboration and inclusion, which is a direct result of respecting one another as well as the great diversity in the marketplace. They employ a diverse group and all voices are valued, have a diverse client base, diverse candidates, and diverse opportunities to offer. This diversity has enhanced their business model and has strengthened the company as a whole. Consequently, the recruiters embrace the commitment to diversity and inclusion as a fundamental business strategy without even trying.
For more information on this case study, visit http://www.windsorresources.com/diversity-and-inclusion-at-windsor-resources-a-case-study-for-success.
For more information about Windsor Resources, visit http://www.windsorresources.com, email info(at)windsorresources(dot)com, or call (212) 388-5400.
About Windsor Resources:
Windsor Resources, where professionals serve professionals. We are a team of tenured search professionals with an average of 15 years of experience in the staffing industry. Our longevity in the industry has empowered us with the capabilities to monitor the changing marketplace and effectively understand your business. Our industry knowledge is both expansive and exclusive. Organizations rely on us to provide staffing for HR, Administrative Support, Accounting/Finance, IT and Creative Services.