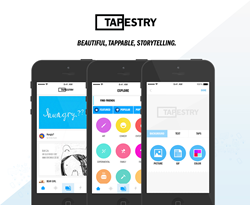 New York, NY (PRWEB) March 27, 2014
Tapestry, an online home for short stories, has launched a new version of their app exclusively for iPhone, iPad and iPod touch that answers the demand of mobile storytelling and interest it has experienced since its launch in Fall 2012. Since that launch, Tapestry has grown from a hub of creativity for renowned storytellers, to a vibrant and social community for people to share their stories and messages within an engaged and social community.
Since the last update Tapestry has served over 8.2 million taps, and Tapestry user engagement is at a high 2:53 minutes with story completion rates at 31%.
With its newest users stemming from the young female and tween category, Tapestry has designed and developed the app in a style and with the capabilities that answer the demands and needs that this users wants–to create and share thoughtful stories of their lives. These improvements lie in the capabilities to create stories on a mobile device, to increase sharing and social, and to make the storytelling function more collaborative - allowing authors to select other Tapestry users to participate and engage in each other's story.
"As Tapestry entered more of the mainstream channels, its been amazing to see what people are using the app for, and even more who has become some of our most active and loyal users," says Jana Trantow, GM of Tapestry. "In this day and age, people want to publish their messages and their creativity, as well as have the ability to share a story or a message with their social community on a platform that allows it to be a little bit more thoughtful, and thought-out."
The app and the platform will remain true to its mission to create a community of people sharing short, visual, sharable and tappable stories using images and GIF's, a simple and fun way for people to publish their ideas, stories or messages in a highly visual and meaningful way.
In addition to the updates to the app, Tapestry is also introducing new stories from new artists, authors, and publishers (Julia Heffernan, Katie Heany, Time Inc. and Digg. We've also collaborated with a few great brands to experiment with our new storytelling medium too; Fox Searchlight, GE, Dove.
Artist, Author and Publisher examples
https://readtapestry.com/s/HvlEUIw7w/
https://readtapestry.com/s/V8AneFntV/
Brand Examples
http://www.foxsearchlight.com/post/3771/explore-scenes-from-the-way-way-back-with-tapestry/
https://readtapestry.com/s/HCxUMkShN/
https://readtapestry.com/s/6rECQfbBl/
The Tapestry: Tappable Storytelling App is available for free from the App Store on iPhone, iPad and iPod touch or at http://www.AppStore.com.
Tapestry was founded at the betaworks studio. Founded in 2008, betaworks is a company of builders. A tightly linked network of ideas, people, capital, products and data brought together in imaginative ways to build out a more connected world. At first glance we seem to do many things. But first and foremost, we're builders, seeking to create a more sustainable innovation model. The more we build, the more we learn, the more we get ideas for peripheral things, all related, connected – in a loosely coupled network of products and companies.