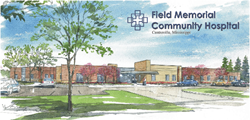 Investments in the health care sector are one of the most effective ways to create good jobs, close the medical service gap in our region, and strengthen the business climate. - HOPE CEO Bill Bynum
Centreville, MS (PRWEB) March 27, 2014
Through the U.S. Treasury's New Markets Tax Credit Program (NMTC), Hope Enterprise Corporation (HOPE), Trustmark National Bank, Southern Community Capital, LLC (a subsidiary of Trustmark National Bank), Community Hospitality Healthcare Services, LLC (CHHS), and U.S. Bank have collaborated to finance the construction of a new health care facility in Southwest Mississippi owned and operated by Field Memorial Community Hospital. In addition to the NMTC investment, Trustmark and HOPE partnered to provide a loan to the new $21 million Hospital.
The new 60,476 square foot facility will house sixteen acute/sub-acute beds, one "flex bed" to be used for inpatient rehab services, an operating room, and four emergency department beds. It will also include a dozen clinical exam rooms. In total, the project will retain 132 permanent jobs, create 150 construction jobs, and provide high quality health care to an estimated 13,000 patients per year. Notably, the hospital is located in a community where four out of ten families live in poverty.
Field Memorial Hospital is a critical access hospital that has been serving the residents of Amite and Wilkinson Counties since 1928. In addition, it operates three community health clinics in Woodville, Gloster, and Centreville, and recently opened a clinic in Liberty.
"Throughout the years, Field Memorial Hospital has found a way to not only survive but thrive here in Southwest Mississippi," said Field CEO, Chad Netterville. "For over 60 years Field Memorial has provided quality care to our communities in our current location. We are excited to take this next step in our history with a completely new campus. Our investors' help to make this a reality means state of the art services in a safe and efficient facility for our patients."
"For over a decade, HOPE has been financing rural hospitals and clinics," said HOPE CEO Bill Bynum. "Investments in the health care sector are one of the most effective ways to create good jobs, close the medical service gap in our region, and strengthen the business climate."
Field Memorial will move two miles from the current location to a more convenient location along Highway 24. This means easier access to the 18,000 residents the hospital serves. Field Memorial's total service area, in addition to Centreville, includes the towns of Crosby, Gloster, Liberty and Woodville.
The Field Memorial Hospital project is a fantastic opportunity and example that helps the community, the hospital, and its visitors and patients, with the means to be able to provide, as well as receive, high quality healthcare through the use of the New Markets Tax Credit Program," said Benjamin Cirka, Executive Director of CHHS.
Rural and inner-city regions of the country have suffered from a chronic shortage of capital for economic development because private capital tends to flow toward where money is already accumulating – in fast-growing metropolitan areas. A desire to bring economic prosperity to low-income communities resulted in the creation of the federal New Markets Tax Credit program, which was enacted by Congress as part of the Community Renewal Tax Relief Act of 2000.
"Trustmark, along with our subsidiary, Southern Community Capital, LLC, is pleased to provide loan and investment dollars for this project which will positively impact the economy of this area. Our financial involvement in this project is consistent with our commitment to improving the economies and quality of life in the communities of our state," stated Jerry Host, CEO of Trustmark National Bank
ABOUT HOPE
Since its inception in 1994, HOPE has generated over $1.7 billion in financing for entrepreneurs, homebuyers and community development projects, and assisted more than 400,000 individuals in low-income communities throughout the Mid South.
ABOUT COMMUNITY HOSPITALITY HEALTHCARE SERVICES
CHHS is a national CDE that provides financing for the development, modernization, and operations of community medical facilities servicing low-income people and low-income community residents in severely distressed and medically underserved areas nationwide.
ABOUT TRUSTMARK
Trustmark Corporation is a diversified financial services company headquartered in Jackson, Mississippi, with approximately $12 billion in assets and more than 200 locations in Alabama, Florida, Mississippi, Tennessee and Texas. Visit http://www.Trustmark.com for more information.
ABOUT U.S. BANK
U.S. Bancorp (NYSE: USB), with $364 billion in assets as of Dec. 31, 2013, is the parent company of U.S. Bank National Association, the 5th largest commercial bank in the United States. The company operates 3,081 banking offices in 25 states and 4,906 ATMs and provides a comprehensive line of banking, brokerage, insurance, investment, mortgage, trust and payment services products to consumers, businesses and institutions. Visit U.S. Bancorp on the web at http://www.usbank.com.