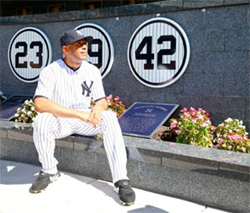 Mariano Rivera is without a doubt the most dominating pitchers of all time and an even greater ambassador to the game, says AthletePromotions Founder, Ryan Totka
New York, NY (PRWEB) March 28, 2014
Join leading eye wear company, Eyefinity and MLB's All Time saves leader, Mariano Rivera for hot dogs, cracker jacks, beers, sodas, photos and autographs on Saturday, March 29th from 3:00-5:00PM at the Jacob Javitz Center in New York City for the International Vision Expo 2014. Fans can meet and get an autograph from Mariano at Booth #4723. Sports memorabilia entrepreneur, Brandon Steiner of SteinerSports will introduce Rivera to the crowd and conduct a moderated Q&A before he signs for the fans.
International Vision Expo East is the pre-eminent fashion and medical eyecare event where eyecare professionals in the Americas gather to experience the energy and international style unique to New York. The expansive show floor and comprehensive education provide the best opportunity to discover the latest trends in eyewear and advances in eyecare technology and business practices. All disciplines in the ophthalmic community enjoy a welcoming and valuable networking experience which delivers professional growth and business success.
Eyefinity is committed to the highest level of partnership, care, and innovation that their customers deserve. They continue to align themselves with the #1 companies, partners, and affiliates that further brand them at the best in the optometric industry. Welcoming Mariano Rivera in their booth will solidify that they're committed to greatness, as is the talent they present.
Mariano Rivera perfectly aligns with Eyefinity's goals and mission: to provide and exceed greatness, change the game in our industry, promote healthy lifestyle and choices, and be the #1 provider and partner for practice management and EHR solutions.
Eyefinity provides the first and only ground breaking technology and solutions that have transformed the optometric industry. As part of the VSP Global family, a multi-billion dollar company, Eyefinity is squarely positioned to continue to provide the best products and solutions. We'll continue to align with heavy hitters in philanthropy and entertainment who share the same core values and mission to serve and provide excellent partnership and care.
With more than 28 years' experience exclusive to the eyecare industry, Eyefinity® offers the widest selection of integrated products and services in the industry to streamline everyday processes to help you succeed.
Eyefinity is excited to welcome the 13-time All-Star and five-time World Series champion from the New York Yankees to Vision Expo. Rivera is MLB's career leader in saves (652) and games finished (952). Rivera won five American League Rolaids Relief Man Awards and three Delivery Man of the Year Awards, and he finished in the top three in voting for the AL Cy Young Award four times.
If your company is interested in booking Mariano Rivera for a speaking engagement or corporate appearance, contact Ryan Totka at AthletePromotions.