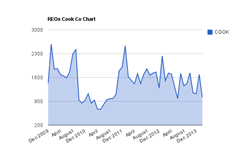 Chicago, IL (PRWEB) March 27, 2014
The year 2014 started off well in the realm of Chicago foreclosures. According to data compiled by the Illinois Foreclosure Listing Service, new foreclosures coming onto the market had decreased by almost 40 percent and the auctions were heating up, selling 62.87 percent more properties than in December. Now, as Chicago settles into the New Year and the statistics for February are out, it's clear to see that, although the city is doing better than in years previous, it still has a ways to go before its real estate market is in good health.
The foreclosure auctions in February 2014 took a slight dip when compared to January of this year. There was a 20 percent drop in properties sold to investors during February, however, this is one case where looking at the in-depth numbers can provide more clarity. In December, the auction numbers were extremely low, which made January's numbers – though high by any standards – that much more inflated. In December, across the 7 Chicagoland counties (McHenry, Kane, Kendall, Lake, Will, Dupage and Cook), there were only 272 properties sold to investors. In January 2014 there were an impressive 443 properties sold and during February there were 356 sold at auction. So, although looking at the 20 percent decrease from month-to-month may seem discouraging, it's not actually as bad as it looks. And in fact, when compared to the numbers of February 2013, there was a 9.20 percent increase.
One positive statistic from February is the number of new foreclosures on the market. That number has been steadily dropping for the last few months and from January to February 2014 it dropped again by 6.70 percent. However, what's really impressive is the year-over-year statistics on new foreclosures because they have dropped almost 50 percent (46.30 percent) since February of 2013. This could be an indication of greater financial health in the Chicago area this year than last, as well.
There was a 38.68 percent decrease in properties that didn't sell at auctions and reverted to lenders (REO) in February in the Chicagoland area. Because fewer properties sold at auction in February, it is surprising that the number of REO properties decreased instead of increased. Typically, if there are fewer sales at auctions it would mean that there would be more foreclosures being resolved through REO. However, due to how long the foreclosure process can take in Illinois, the decrease in REO properties could be caused by older homes and commercial properties that have been on the market longer just now being resolved. REO properties in February were a big part of the overall foreclosure landscape, making up 82.49 percent of the total foreclosure completions seen during the month.
One stand-out county for the month was Dupage County. It was the only Chicagoland County to post an increase in sales at the auctions in February and it also dropped 17.24 percent in new foreclosures on the market when compared to January's numbers. Not only was it the only county to see an increase in sales at the auction, it jumped by an impressive 41.18 percent.
With the overwhelmingly high numbers in Chicago foreclosures in January, it's no surprise that the February numbers were a mixed bag, but March's numbers will help local investors assess the first quarter as a whole and set the stage for what's to come this summer in the real estate market.