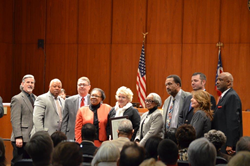 Toledo, OH (PRWEB) March 27, 2014
April 6th is Toledo Symphony Day in Toledo, Ohio. On Tuesday, the City Council unanimously approved a resolution, which saluted the Symphony for 70 years in the community and for its upcoming Huntington Center debut.
The Symphony will perform Beethoven's Ninth Symphony "Ode to Joy" on April 6th in a concert joined by a 1,000 voice choir of community members, college and high school students.
The resolution announced the celebration of the Toledo Symphony's 70th Anniversary Season; acknowledged Principal Conductor Stefan Sanderling's plan for a spectacular community celebration of Beethoven's iconic Symphony No. 9 "Ode to Joy" at the Huntington Center; described the creation of the 70th Anniversary chorus of 1,000 community members, high school and college students from 30 choirs across the region; expressed gratitude for the 70 regional businesses, foundations and individuals, led by ProMedica and Owens Corning, who are today Producers of the largest local music production ever; noted the dedication of the performance to the memory of Ellie Seifried by her family; quoted comments from TSO Chairman Dick Anderson expressing gratitude to a community that has brought its symphony to "a place of significant accomplishment, and enduring momentum."
It also saluted the musicians of the Toledo Symphony in the special anniversary year with thanks for sharing their exceptional capabilities with a thankful community.
Ode to Joy - Event Details
For 70 years, the Toledo Symphony has served as the heart of our musical community—now, for the first time ever, the symphony has invited choruses from throughout our region to lift their voices in the inspiring "Ode to Joy" from Beethoven's Ninth Symphony.
Toledo Symphony Principal Conductor, Stefan Sanderling, will conduct. Four talented operatic soloists will join the symphony and chorus--Jennifer Cresswell (soprano), Katherine Calcamuggio (mezzo-soporano), Shawn Mathey (tenor) and Sean David Cooper (baritone). All soloists have strong ties to the northwest Ohio community.
The following school and community choirs will be participating:
Masterworks Chorale led by Timothy Cloeter
Adrian College
Bedford
Bowling Green State University
Clay High School
Defiance
Edon
Elmwood
Evergreen
Lourdes University Chorus
Maumee Valley Country Day School
Northwood
Oak Harbor
Otsego
Pettisville
St Ursula
St. Francis de Sales
St. John's Jesuit
Toledo Choral Society
Toledo School for the Arts
University of Toledo Concert Chorale and Festival Choir
Wauseon
Whitmer
Sponsor Count Reaches 70+ - In Honor of 70 Years in the Community
The Toledo Symphony is also pleased to announce that 70 businesses and individuals have stepped up to support this event as "Producers" of this special presentation.
For Tickets
-In person at the Huntington Center Box Office
-Ticketmaster outlets
-Ticketmaster Charge By Phone at 1-800-745-3000
-On-line at Ticketmaster.com
Event Details
What: ODE TO JOY: A community's celebration of music
Where: The Huntington Center in downtown Toledo
When: April 6, 2014 at 4pm
Who: Toledo Symphony, Stefan Sanderling, the 70th Anniversary Chorus directed by Timothy Cloeter & soloists
Tickets: Through Ticketmaster outlets, Ticketmaster.com and at the Huntington Center Box Office
Groups: Groups of 10 or more should contact Ashely DiMasso, Suite and Premium Seat Manager at adimasso(at)meettoledo(dot)org.
Sponsored by: Promedica