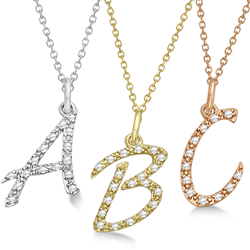 Allurez, a top online jewelry company, has added an entire new selection of jewelry dedicated to the "me" in all of us.
New York, NY (PRWEB) March 27, 2014
The popularity of customized jewelry is a real sign of the times, a time in which keeping up with the Jones' is not nearly as important as being true to oneself. To that end, Allurez, a top online only jewelry company, has added an entire new selection of jewelry dedicated to the "me" in all of us. After all, what better way to please oneself than with individualized & personalized jewelry?
An Allurez company executive recently announced the introduction of a line of initial jewelry, with many selections using the letters A-Z. The executive said, "We are trying to satisfy the needs and wants of our client base, and what they want right now is customized jewelry, like our new line of individual letter jewelry. A number of new styles are available including personalized diamond cursive initial pendants, those with block letters, initials placed on heart shaped pendants and so much more."
The Allurez executive continued by saying that initial pendants are just one of the ways Allurez is satisfying the customized needs of its customers. Allurez has an entire section dedicated to designing your own engagement ring as well as other customized options, like creating your own pendant or earrings.
In a sea of sameness, its clear that many continue to find ways to stand out from the pack. And, those products and services that cater to an individual's personal needs will be rewarded for their efforts.
About Allurez.com:
Operating as an innovative and robust retailer and designer of exceptional jewelry from the heart of NYC, Allurez is recognized for providing the largest selection of designer style jewelry for men and women including engagement rings, wedding bands, bracelets, necklaces, pendants, earrings, and certified loose diamonds. Designed using the finest metals and gemstones, Allurez provides custom made jewelry for customers seeking the finest jewelry available.
For additional information about any of Allurez products including all customized jewelry, please contact allurez.com or call 1.800.554.3509 for details.