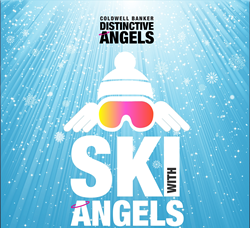 'We gave hundreds of volunteer hours last year to these organization and they still need more,' according to CEO Todd Conklin. 'We hope to have more of the community helping the Distinctive Angels in 2014.'
Ketchum, Idaho (PRWEB) March 29, 2014
Coldwell Banker Distinctive Properties is a leader in giving back to the Ketchum and Sun Valley community with the company's charity work, Distinctive Angels. This year's annual event, Ski With Angels, was held March 1st on Bald Mountain with a reception and giveaway at the River Run Lodge. The event was a success says Managing Director Jamie Briscoe. More than a dozen charitable and community organizations where celebrated during the event. Among them were: the Hunger Coalition, Higher Ground, Bring Bowe Home, The Animal Shelter, and the Super Supper.
The event commenced with a celebratory Ski Day where volunteers and clients of Coldwell Banker Distinctive Properties skied with agents, brokers, and staff. During an Apres Ski Event held at the River Run Lodge, Coldwell Banker Distinctive Properties gave away prizes ranging from rounds of golf at the new White Cloud course, to Rossignol Skis.
Congratulations go out to the winners: Debbie O'Neil, Mike Fitzpatrick, Christy Giles, Andrea Gallego, Jennifer Levigne, and the Grand Prize winner, Marge Lilley.
"The event was a great opportunity for the community and our clients to better understand all that the Distinctive Angels do in the community," said Briscoe. "We gave hundreds of volunteer hours last year to these organization and they still need more," according to CEO Todd Conklin. "We hope to have more of the community helping the Distinctive Angels in 2014."
Coldwell Banker Distinctive Properties is a top agency in the Sun Valley area for Ketchum real estate and vacation homes.