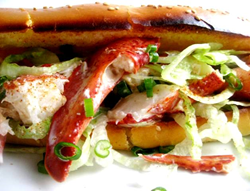 (PRWEB) March 27, 2014
As spring arrives in the air, tastes naturally turn to fresh, clean flavors and bright colors. Enter Orange Vanilla Lobster Salad Bites, by GetMaineLobster.com, a healthy, light lunch or dinner that is easy to make and hard to forget.
"This play on a lobster salad is a lighter affair with bright citrus and balsamic notes," says GML Chef Mac Arrington, "brought out with the sweetness of honey, vanilla, and Maine lobster."
Ingredients include 1 pound of hand-picked lobster meat; 1 batch orange vanilla vinaigrette; ¼ cup corn, off the cob; ½ red onion, diced finely; orange segments from 1 orange; 1 tablespoon mayonnaise; ¼ cup plus 1 tablespoon scallions, thinly sliced; brioche bread rounds, toasted (4 – 8 slices, based on size); salt and freshly ground black pepper to taste.
Ingredients for the Orange Vanilla Vinaigrette include 2 cups orange juice; ¼ cup white balsamic vinegar; ¼ vanilla bean, split, scraped; 1 tablespoon honey; 1 tablespoon whole grain mustard; ½ cup olive oil; salt and freshly ground black pepper to taste.
To prepare the Orange Vanilla Vinaigrette, add the orange juice, balsamic vinegar, vanilla bean and honey into a small pot and reduce over medium heat by half or until ¾ cup remains. Strain to remove any particles. Combine in a bowl with mustard, and slowly whisk in olive oil. Reserve the Vinaigrette at room temperature.
To prepare the salad bites, roughly chop up the lobster meat, leaving some shapes of the claws remaining. Add it to a large mixing bowl and fold in mayo, red onion, corn kernels, ¼ cup scallions, and ¼ cup of orange vinaigrette. Carefully fold in orange segments. Season the salad to taste with salt and pepper, adding more vinaigrette as desired.
Toast your brioche bread rounds, and top each with a healthy portion of lobster salad. Top each with a nice orange segment and a pinch of scallions. Enjoy the vibrant taste of spring!
About GetMaineLobster.com
GetMaineLobster.com, a division of Black Point Seafood and Black Point Gourmet, hand-selects the finest Maine lobster, seafood and beef products for convenient distribution throughout the United States. Their passion is to make fresh, quality seafood readily available to customers across the country, which is why they buy from only the most trusted, well-established suppliers to ensure that they receive the finest products available.
GetMaineLobster.com was selected out of the more than four million small American businesses served by Chase bank to represent its new Platinum Business Checking