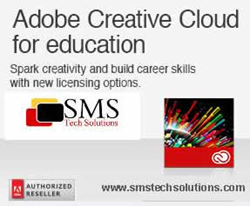 The new flexible licensing options that Adobe offers should make it more affordable for schools to teach students the most up-to-date applications that they require when they step out into the real world.
(PRWEB) March 27, 2014
SMS Tech Solutions releases new Adobe changes to U.S. educational licensing programs. The new programs will take place May 1st, 2014 and SMS Tech Solutions can provide information on the details today.

Adobe announces new VIP Licensing Plan: "Creative Cloud for education"
Adobe now offers Device licensing and Single application options
Adobe EEA for HED End of Life is April 25th, 2014
Adobe offers new affordable price for K-12 EEA
Current CLP programs can be migrated to new program
The new Adobe options are:
Named-User licensing and/or Device licensing - A device license is a licensing option for classroom and lab environments that allows multiple students to utilize the same application on a single computer without having to log-in or authenticate license ownership.
Single Application Option - the single application option allows institutions to purchase one or more of fourteen available single desktop applications like Photoshop CC, Illustrator CC and InDesign CC.
Creative Cloud for education is the new program name but it is important to note that the term "cloud" does not mean the programs are only accessible via internet or browser access. The fact is the application(s) (programs) are actual client downloads. The application(s) resides on the computer and can be accessed without internet requirements. Only updates require internet access.
Learn more about the flexible license options at SMS Tech Solutions/Adobe or contact us.
SMS Tech Solutions, headquartered in NC, provides technology solutions for K-12, Higher Ed, Non-Profits, SMB, Commercial, State and Local Government. More information is available at http://www.smstechsolutions.com.