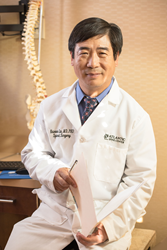 Nerve root block injections can be used for both pain relief and for therapeutic purposes.
Edison, New Jersey (PRWEB) March 28, 2014
Pain blocks given at the nerve root near the spine, while not having a curative effect, relieve symptoms while the patient and their doctor focus on finding long term options for the underlying disease or cause. In addition to pain control, pinpointing and relieving the area affected by the pain with a nerve block is also very diagnostic for treatment planning. For the most adequate pain relief, an anesthesia followed by a steroid is applied to the affected nerve via guided injection. The anesthetic will provide relief during and shortly after the procedure and the steroid will work progressively better over several days, peaking at about two weeks and slowly wearing off thereafter.
If you are experiencing back pain and wish to discuss this or other options with Atlantic Spine Center you can contact them through their online form or call them at 877-836-7396.
Atlantic Spine Center also provides free public seminars each month if you would like to hear Dr. Liu and his team talk more about advancements in minimally invasive spine surgery. Learn how endoscopic procedures improve recovery time, do not require an overnight stay in the hospital, and get you back to enjoying the life you had before back pain.
During each seminar presentation the doctors encourage attendees to ask questions and take time to meet with a staff member after the presentation for as long as time permits. MRIs and x-rays can also be reviewed before and after the seminar. MRI reviews will begin at 6pm prior to the start of each lecture at 6:30pm.
Atlantic Spine Center's April 2014 Seminars discussing current procedures in minimally invasive spine surgery are as follows:
Date: Thursday April 3, 2014
Time: 6:30pm EST
Location: 1921 Oak Tree Road, No 103
Edison, New Jersey, 08820
Phone: (877) 272-4535
Speakers: Dr. Liu
Date: Tuesday, April 22, 2014
Time: 6:30pm EST
Location: 475 Prospect Avenue, Suite 110
West Orange, New Jersey, 07052
Phone: (877) 272-4535
Speakers: Dr. Liu
Upcoming seminar info and registration are always listed here.
Seating is limited. Because of the popularity of free Atlantic Spine Center seminars, please sign up as soon as possible to reserve your seats.
About Dr. Liu: Kaixuan Liu, M.D., Ph.D., is a renowned endoscopic spine surgeon and President of Atlantic Spine Center in New Jersey (http://www.atlanticspinecenter.com). Dr. Liu is certified by The American Board of Pain Medicine and is a member of The International Society for Advancement of Spine Surgery, The American Society of Interventional Pain Physicians (ASIPP), The American Academy of Pain Medicine (AAPM), The International Intradiscal Therapy Society (IITS), and The American Society of Anesthesiologists (ASA).