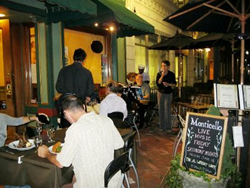 Red Bank, NJ (PRWEB) March 26, 2014
There have been nothing but good reviews from restaurant-goers who have dined at Monticello Restaurant in Red Bank, New Jersey, giving executive chef, Katerina Giambalvo two thumbs up. The Venezuelan born cook gives customers a pleasurable dining experience with her homemade Italian Fusion, including a Mediterranean twist. Strolling in on the way to or coming from an evening at the Count Basie Theatre or after an afternoon at Navesink Water Front Park, guests flock to the 86 seat restaurant with hearty appetites and expectations.
After arriving in the United States in 1999, Giambalvo studied culinary arts at the Culinary Institute of New York before she opened Monticello Bistro in South Amboy, New Jersey in 2004. As head chef for five years, Giambalvo began to experiment with ethnic dishes she learned from traveling coupled with those she grew up with from her parent's Italian background. "I like to create and design visually and utilize my five senses when I'm cooking," said Giambalvo.
Bringing her talents to Red Bank, the artist later moved the restaurant's location in 2009 to the popular downtown dining area calling it a 'destination town.' "South Amboy was not a restaurant town," said Giambalvo. "When we moved to Red Bank we knew that the amount of walk-ins would be higher, increasing business." Formerly managed with her brother Roberto before taking sole ownership, the renamed Monticello Restaurant features dishes reflecting Italian, French, Spanish and European styles. "About ninety percent of the recipes are my creations," said Giambalvo. "The other ten percent are the traditional Italian meals that people love to eat."
Giambalvo introduces her guests to Northern and Southern Italian cuisine through her unique specials. "My specials are out of the ordinary," said Giambalvo. "I try to think of something new and exciting and what I want people to experience for the first time." Dishes are seasonally rotated in and out of the menu to incorporate new recipes. "I would say eighty percent of our customers are regulars and they usually bring fresh faces with them," said Giambalvo.
The restaurant is also available for parties or meetings accommodating 86 guests in the dining room and an additional 12 on the outside patio. "It's not elegant or fine dining, but it's not a pizzeria either," said Giambalvo. The eatery offers BYOB dining and off-premise catering as well. A jazz band performs on the patio twice a year. "In Red Bank we are unique and authentic offering Italian cuisine in contrast to everyone out there who offers American Italian cuisine," said Giambalvo. "We are the pioneer in Red Bank serving authentic Italian cuisine."
Monticello Restaurant is open Tuesday through Saturday from 3:30 pm to 10:00 pm and on Sunday from 3:30 pm to 9:00 pm. They are closed on Mondays. The restaurant offers private party packages, special promotions and a separate catering menu including a gluten free menu upon request.
Visit their website to make a reservation http://www.monticelloatredbank.com/index.html or call 732.450.0255.
About Bielat Santore & Company
Bielat Santore & Company is an established commercial real estate firm. The company's expertise lies chiefly within the restaurant and hospitality industry, specializing in the sale of restaurants and other food and beverage real estate businesses. Since 1978, the principals of Bielat Santore & Company, Barry Bielat and Richard Santore, have sold more restaurants and similar type properties in New Jersey than any other real estate company. Furthermore, the firm has secured in excess of $500,000,000 in financing to facilitate these transactions. Visit the company's website, http://www.123bsc.com for the latest in new listings, property searches, available land, market data, financing trends, RSS feeds, press releases and more.