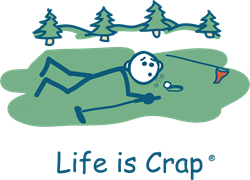 I work at golf and my game never gets out of the crappy category, but I sure have fun trying.
Manchester, Vermont (PRWEB) March 28, 2014
While there is still a foot of snow on the ground here in southern Vermont, it is officially springtime. And when springtime rolls around people who have been living in a sun deprived state of semi consciousness, or hibernation, begin to stir and come alive. Their thoughts turn towards a variety of activities – gardening, fly fishing, house chores, spring cleaning, painting the porch, rehab, and yes, GOLF!
The Masters begins April 7th and is considered by many to be the real granddaddy of all golf tournaments. To celebrate the Masters and the start of Golf Season for those living north of the Mason Dixon line – the Life is Crap team has launched a new collection of hilarious golf expression t-shirts that celebrates the challenges of making par, The Par-tees Collection!, as it is called.
"We were inspired to create this new collection by the fact that none of us can shoot par. In fact, none of the Life is Crap Team can barely get it 100 yards off the tee," claims Paul Wheeler, partner! Paul continues that he lives by the Bob Hope quote "If you watch a game, it's fun. If you play at it, it's recreation. If you work at it, it's Golf."
"I work at golf and my game never gets out of the crappy category, but I sure have fun trying," says Studio Manager, Dean Darling. The Life is Crap 'Part-Tees Collection' will let you laugh about your game and put it into perspective, which is a good thing, since most of golf's perspective is from water hazards, sand traps, the woods, or 5 feet pass the hole for a three putt!
The Par-Tees line goes on sale this week and will make a fabulous gift idea for all golfers. These shirts are for anyone out there chasing that little white ball and the dream of making par.
Remember, 'Crap' happens when playing golf… and laughter is the cure.
About Life is Crap®
Life is Crap® is a humor based apparel company, with a focus on tees, hoodies, and gift items. Our brand focuses on crappy situations and pokes fun at the humor within those situations. At Life is Crap® we believe that the universal cure to crappy situations is laughter. We believe that poking a little fun at ourselves, and the world, is the best way to get through those occasional lousy moments. Life is Crap® is the flagship brand of Offsides Branding & Licensing. For more information visit lifeiscrap.com or offsidesbranding.com.