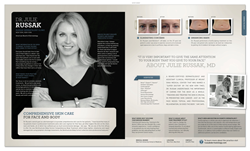 ...massaging the oil into cellulite-dimpled areas may help improve lymphatic drainage and hydration to improve the appearance of the surface of the skin.
New York, NY (PRWEB) March 28, 2014
Leading Dermatologist and Melanoma Expert, Julie E. Russak, M.D., FAAD is featured in the Spring/Summer 2014 edition of NewBeauty magazine, which is due on newsstands April 1, 2014.
Russak Dermatology Clinic, a state-of-the-art practice that provides comprehensive care in medical dermatology, dermatological surgery, and non-surgical cosmetic dermatology, is located in midtown Manhattan. Dr. Russak, a melanoma expert, treats an extensive range of medical conditions for adult and pediatric patients while also offering the latest cosmetic treatments that require little or no downtime, including injectables, laser treatments, and an array of non-invasive rejuvenation procedures.
Featured in the current Spring/Summer 2014 edition of NewBeauty as a Beauty Expert and resource in "Why You Need To Use Coconut Oil" page 60.
Can Coconut Oil Fight Cellulite?
"Many products promise to improve cellulite but few deliver. We've heard that coconut oil may be helpful in the fight against cellulite when ingested orally since it revs up the fat burning process and releases stored toxins. While there is no scientific proof that coconut oil is the secret weapon to getting rid of cellulite for good, New York dermatologist Julie Russak, MD says that massaging the oil into cellulite-dimpled areas may help improve lymphatic drainage and hydration to improve the appearance of the surface of the skin."
Readers looking for the latest in "must-have" beauty products, anti-aging strategies and cosmetic enhancements turn to the pages of NewBeauty. The world's most unique beauty magazine, NewBeauty is the ultimate aesthetic resource for "everything beauty," covering subjects from advancements in facial fillers to the most luxurious spa treatments to the newest wrinkle-reducing serums and everything in between. NewBeauty's reach beyond print—to online and retail—cements its reputation as a beauty brand powerhouse among readers, marketers and medical professionals.
Since its launch in January 2005, NewBeauty has fearlessly enabled an open and ongoing line of communication about cosmetic enhancements between consumers, manufacturers and medical professionals. Let's face it: More than 12.4 million surgical and nonsurgical cosmetic procedures were performed in 2010—a number that continues to rise each year.
Yet no other publication approaches the subject with NewBeauty's dedication to fairness and accuracy. Issue after issue, NewBeauty fills the void for reliable information on all types of aesthetic procedures in light of the growing interest and surge in cosmetic-enhancing treatments. Informed, enlightened and inspired readers are empowered to make the best decisions to reach their beauty goals, be they topical, surgical or minimally invasive.
To ensure the accuracy of information in NewBeauty's pages, the publisher established the Editorial Advisory Board, comprised of recognized experts in their respective fields. Each article and advertisement has been carefully reviewed by at least two members of the Advisory Board, assuring readers that the information provided is fair, accurate and reliable. In its Beauty Experts Guide, NewBeauty only profiles physicians who are board-certified plastic surgeons, facial plastic surgeons and dermatologists, as well as cosmetic dentists who have met rigorous standards and demonstrate extreme due diligence in their respective fields.
With a distribution of approximately 500,000 copies per issue, NewBeauty is available for purchase at 40,000 plus retailers in the United States, including major bookstores like Barnes & Noble, as well as airports, supermarkets and newsstands.
Sandow Media Corporation is a cutting-edge publishing company built around a single philosophy: "Always exceed expectations." Based in Boca Raton, Florida, Sandow Media Corporation is defined by an unrelenting drive to innovate. Founded in 2002 by Adam I. Sandow, Sandow Media specializes in high-end consumer books and magazines in the categories of travel, shelter and beauty.
For more information about Julie E. Russak, M.D., and Russak Dermatology Clinic, visit russakdermatology.com or follow her practice on Facebook and Twitter (@RussakDerm). To interview or make an appointment with Dr. Russak, contact Juliet Cavallaro at juliet(at)russakdermatolgy(dot)com or (646) 873-7546.
About Julie E. Russak, M.D.
Dr. Russak is a board-certified dermatologist, a Fellow of the American Academy of Dermatology, and a member of the American Society of Dermatologic Surgery. She graduated with honors from New York University School of Medicine and completed her dermatology residency at the Dartmouth Hitchcock Medical Center, where she served as chief resident. She completed an Oncology Melanoma Fellowship with world-renowned melanoma expert Darrell Rigel, M.D., and is the recipient of the Marianne Salzberg Award in Dermatology and the Jonas E. Salk Scholar Award. In addition to having a thriving practice, she is clinical faculty at Mount Sinai Hospital, where she teaches dermatology residents and medical students.