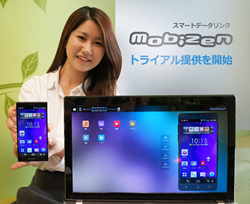 New York, NY (PRWEB) March 27, 2014
RSUPPORT (KOSDAQ: 131370) announced they entered into a licensing agreement with NTT DOCOMO to launch a pilot for 'Mobizen – The Smart Datalink' on March 27, 2014. Rsupport is the primary developer and content provider behind Mobizen. NTT DOCOMO plans to offer 'Mobizen – The Smart Datalink' as a service for 13 of their premier smartphones and gauge customer response before transitioning Mobizen as a commercial service with NTT DOCOMO.
Mobizen can be used to transfer music and video from PC to smartphone and vice versa. If you leave your smartphone at home, you can now view its screen from a remote location via a web browser and access features such as missed call records, messages and mobile apps. Using your smartphone has never been more convenient. Mobizen is the first of its kind within the Japanese mobile industry and is compatible with Windows and Mac operating systems, and is web-based (Internet Explorer, Chrome, and Firefox).
RSUPPORT believes NTT DOCOMO intends to retain the original Mobizen experience (look and feel) in an effort to strengthen and retain Mobizen's brand identity as Mobizen expands world-wide. DOCOMO's commitment to the Mobizen brand is strengthened by their loyalty to RSUPPORT.
RSUPPORT is an innovative leader in the remote solutions industry and the number one remote solutions provider in Asia; developing both remote support and remote access solutions for home and business. RSUPPORT has offices in Korea, Japan, the U.S.A. and China, positioning itself to be a truly global remote solutions company. NTT DOCOMO is Japan's largest mobile service provider, serving more than 60 million customers.
Go to Mobizen.com for more information or find us on Facebook