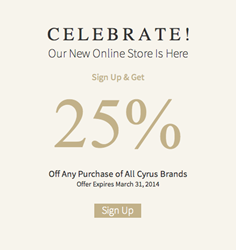 The sale is in celebration of the launch of their brand new shopping cart website...
Minneapolis, MN (PRWEB) March 26, 2014
Cyrus Artisan Rugs has been Minneapolis' largest seller of handmade area rugs for decades. To celebrate the launch of their new online store, Cyrus is running their most exciting sale ever, offering major savings on every rug in their vast inventory to new customers who sign up online. The sale is in celebration of the launch of their brand new shopping cart website, which amplifies their already-considerable reach in the Oriental rug market.
"March is almost gone, and when it is the sale will be gone too," says Alex Farahan, Cyrus' managing director. "That means only 5 days left." This one-time-only sale is offering a whopping 25% discount on any purchase to all new customers who sign up on the new website.
In addition to offering hundreds of traditional and designer rugs by well known brands like Tufenkian, Kalaty and Tamarian, Cyrus commissions their own private label rugs by top designers to be handmade in their rug weaving facilities in India and Nepal.
Cyrus specializes in fine quality hand knotted and hand woven rugs in the traditional, transitional, contemporary and tribal styles. Their website divides rugs into four different price tiers that go from very exclusive ("Imperial") to surprisingly affordable ("Allure"). This makes it easy for an online shopper to identify all of the rugs that fit into his or her budget.
Cyrus Artisan Rugs has emerged over that past few years as the largest retailer of handmade rugs in the Midwest, with their Minneapolis showroom boasting an inventory of about 3,000 handmade rugs on any given day. With the launch of their online rug store, Cyrus can now lay claim to being the world's largest online rug store as well.