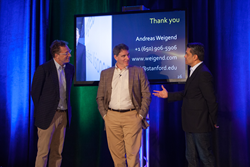 Winston-Salem, NC (PRWEB) March 26, 2014
Winston-Salem-based Inmar yesterday kicked off its 2014 Inmar Forum. Titled "Beyond Big Data: Knowing and Serving the Customer," the two and one-half day event welcomes industry professionals from 138 leading healthcare and consumer goods companies, including the Kellogg Company, PepsiCo, Novant, Health, Inc., and Wake Forest Baptist Medical Center.
Both Weigend and Fader discussed how rapid advancements in technology and the resulting proliferation of information available to consumers are fundamentally changing business. Consumers, they say, are gaining power through the data they share and through the social networks in which they exchange opinions about what they buy, and research products prior to making purchase decisions. Inmar Chairman and CEO David Mounts joined Weigend and Fader on stage, where the three discussed technology-savvy millennials and the expectations they are bringing to commerce.
During his welcoming remarks, Mounts said, "Technology is changing every facet of commerce. The effective use of data and collaboration will be central to solving problems and meeting the expectations of tech-enabled consumer expectations for a seamless experience that is unique to them."
Andreas Weigend's expertise is the future of big data, social-mobile technologies and consumer behavior, studying people and the data they create. He is a professor at Stanford University and UC Berkeley and directs the Social Data Lab. Fader is the Frances and Pei-Yuan Chia Professor and Professor of Marketing at the Wharton School, University of Pennsylvania, and is Co-Director of the Wharton Customer Analytics Initiative.
###
About Inmar
Inmar is a technology company that operates intelligent commerce networks. Our platforms connect offline and online transactions in real time for leading retailers, manufacturers and trading partners across multiple industries who rely on Inmar to securely manage billions of dollars in transactions. Our Promotions, Supply Chain and Healthcare platforms enable commerce, generate meaningful data and offer growth-minded leaders actionable analytics and execution with real-time visibility. Founded in 1980, Inmar is headquartered in Winston-Salem, North Carolina with locations throughout the United States, Mexico and Canada.
For more information about Inmar's products and services, please contact 866.440.6917 or visit http://www.inmar.com.