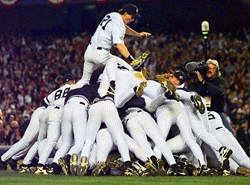 Denver, Colorado (PRWEB) March 27, 2014
Winter weary fans have come out of the woodwork to support their Boys of Summer. As if wishing and willing an end to this year's wrathful weather, Americans appear bent on buying baseball tickets to speed the start of Spring.
In fact, with the traditional opener set for next Monday, March 31, ticket sales are blooming. The 2014 Major League Baseball season officially began on March 22 for the Los Angeles Dodgers and the Arizona Diamondbacks who played in Sydney, Australia. But now fans around the country are anxiously awaiting the new year with ballparks opening their gates in less than a week.
The season unofficially starts when Los Angeles Dodgers play the San Diego Padres on March 30. Opening Day will come for the rest of the league on March 31, a day that will have 13 Major League games on the schedule. Nine games are scheduled for Tuesday, April 1, including the season debut for the Yankees at Minute Maid Park in Houston.
The first day with a full slate of 15 games will be played on April 2, and the final day of the regular season -- which features 12 divisional matchups -- will come on Sept. 28, 2014.
"The Yankees currently rank as the top MLB ticket seller nationwide and third in current sports ticket sales overall behind the Exhibition U.S. Soccer events and the Harlem Globetrotters," said Marta Ault at online ticket marketplace BuyAnySeat.com.
"The top 13 MLB teams now in the top 25 sports ticket sellers are, in order, the New York Yankees, Los Angeles Dodgers, Pittsburgh Pirates, Boston Red Sox and Detroit Tigers, Baltimore Orioles, Cincinnati Reds, Atlanta Braves, Colorado Rockies and Tampa Bay Rays," said Ault, "followed by the Texas Rangers, Washington Nationals and Milwaukee Brewers."
"That's why we're proud to offer sports fans the most comprehensive and continuously updated selection of sports tickets online, with a worry-free guarantee to protect their purchase," added Ault.
"To access the full line-up of MLB Baseball tickets now available, customers can go to BuyAnySeat.com and search for the MLB Baseball – then select their tickets."
For the sixth year in a row, Yanks ace C.C. Sabathia will get the nod to start on Opening Day for one of the most successful franchises in professional sports history. Since the team's founding in 1901, the Yankees have won 18 division titles, 40 AL pennants, and 27 World Series championships, all of which are MLB records. The team ranked fourth in overall attendance in 2013 with over 3 million fans passing through the turnstiles last season.
Originating in 1869, Major League Baseball or MLB constitutes one of the major professional sports leagues of the United States and Canada. It is made up of 30 teams—29 in the United States and one in Canada. With the International Baseball Federation, MLB also manages the World Baseball Classic.
The sport consists of teams that play in the American League and the National League. After 100 years as separate legal entities, the two leagues merged in 2000 to become a single organization led by the Commissioner of Baseball.
This year's 162-game season, split between home and away games for each of the sport's 30 teams, runs from March 22 to September 28. That adds up to 2,427 games yet to be played in this year's regular season, not counting the up to 20 postseason games the World Series finalists might play. The Boston Red Sox are the reigning World Series champions having stymied the St. Louis Cardinals 4 games to 2 last October.
Important dates coming up include Opening Night on Sunday March 30, Opening Day on Monday March 31, Jackie Robinson Day on Tuesday April 15 and Baseball's 85th All-Star Game at Target Field in Minneapolis on Tuesday July 15.
The Rangers and Phillies will play the first Interleague series, a three-game set at Rangers Ballpark in Arlington that will kick off the 18th year of regular-season play between the American and National Leagues. Texas and Philadelphia will play on March 31 at 1:05 p.m. CT, and April 1 and April 2 at 7:05 p.m. CT.
Fans won't have to wait long to see a reprise of last season's playoff matchups. The defending World Series champion Red Sox will kick off a series against the Tigers in a rematch of the AL Championship Series on Friday, May 16, at 7:10 p.m. ET. The Cardinals and Dodgers, who squared off in last year's NL Championship Series, will meet in Los Angeles for a four-game set starting June 26 at 7:10 p.m. PT.
To shop for MLB Baseball tickets, visit BuyAnySeat.com.
About BuyAnySeat.com: An online ticket marketplace, BuyAnySeat.com connects sports, theater and other live entertainment fans to an extensive network of ticket sellers worldwide. The site's simplified listings and navigational tools enable shoppers to easily locate, compare and purchase inexpensive, discounted or lower-priced tickets to virtually all advertised sports and entertainment events around the globe.
The ticket marketplace, which is PCI-compliant and Norton Secured, also provides customers with a complete Worry-Free Guarantee on all ticket purchases. Based in Denver, Colorado, BuyAnySeat.com is a subsidiary of Denver Media Holdings. For more information, please visit http://buyanyseat.com.