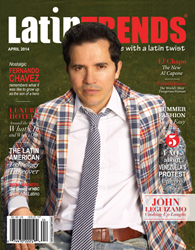 (PRWEB) March 30, 2014
This April, funny man John Leguizamo illuminates the cover of LatinTRENDS magazine. He talks about his hit HBO special, Ghetto Klown and his latest film project, Chef, co-starring the phenomenal Sofia Vergara. "I'm working like crazy," says Leguizamo. Find out more about his upcoming projects on screen, on stage and on film in this sidesplitting interview.
The April issue also includes an interview with legendary, Carlos Ponce who talks about his role as the voice of Bonito in Disney's newest animated film, Pirate Fairy. Also in film, Fernando Chavez, son of the unforgettable activist Cesar Chavez, confesses what it was really like growing up with a hero for a father.
Juan Guillen, founder and CEO of LatinTRENDS shares his point of view, and tries to make sense of the latest media madness with the recent shutdown of CNN Latino and NBClatino.com
This month's special feature is devoted to The Latin American Mobile Takeover, uncovering the purchasing power of Latinos and their consumer habits. In global politics, the April issue offers answers to the five most frequently asked questions surrounding the recent protests in Venezuela.
Additionally, LatinTRENDS writers revisit the criminal empire of "the world's most dangerous woman" Griselda Blanco
And for those in the market for new takes on healthy habits, LatinTRENDS shares new trends in fitness and mouthwatering recipes!
Download the LatinTRENDS app on all iPhones, iPads and Androids via Pocketmags.com today!
For more information, please contact Maria Luna at (212) 852-6164 or via email at mluna(at)latintrends(dot)com.