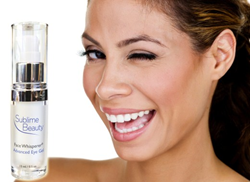 The effective Face Whisperer® Advanced Eye Gel will be featured this morning on two television news shows.
St. Petersburg, FL (PRWEB) March 27, 2014
The Face Whisperer® Advanced Eye Gel is getting television airtime this morning.
The Sublime Beauty® serum reduces dark circles, bags and wrinkles with three patented ingredients that were developed in France. Sublime Beauty® focuses on anti-aging and quality skincare products.
NewsWatch will feature the story on the History and Biography Channel morning news shows today. Sublime Beauty® will post the feature on its websites and the YouTube channel for Sublime Beauty after airing.
"We love this serum because it really helps those who suffer from dark circles, bags and puffy eyes," says Kathy Heshelow, founder of Sublime Beauty®. "The bonus is that it reduces wrinkles as well. A report with before and after pictures is on the product page at SublimeBeautyShop."
Sublime Beauty products are also available on Amazon.
This product joins the Face Whisperer® line of products, including a day cream with Argireline (natural botox), night cream and one for neck and decollete.
NewsWatch is a trusted source for breaking consumer, technology and travel news.
The spot will air on the History Channel between 6:00 and 6:30 a.m. EST, and on the Biography Channel between 7:00 and 7:30 a.m. EST.