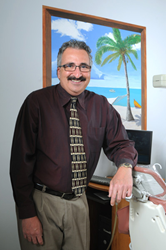 Monroe, CT (PRWEB) March 26, 2014
Dr. Richard Amato has been a dedicated Monroe periodontist for years with this year marking the 25th anniversary of his work in the community. Over the course of his time in practice, Dr. Amato has evolved with dental advances embracing the latest research and technological improvements including multiple types of dental implants and laser gum disease treatment.
Since 1989, Dr. Amato has treated patients needing periodontal care at his office at 324 Elm Street. Some patients may remember his original office in Suite 104A which was the location for the practice until moving into the current space in Suite 103A. This location also experienced a major expansion in 2000 that has helped this Monroe periodontist to most effectively serve the needs of area residents.
Among the industry leading services offered by Dr. Amato is the Laser Assisted New Attachment Procedure (LANAP), a revolutionary new gum disease treatment that utilizes laser technology to effectively treat gum disease with a minimally invasive technique. For people who need treatments involving the cutting of jaw bone, Dr. Amato utilizes Piezosurgery®, a system that makes cuts with micro vibrations reducing the impact on neighboring bone, muscle and nerve tissues. Cone beam x-ray technology provides the highest resolution, 3D images available for more accurate diagnosis and with lower levels of radiation than other imaging systems.
As a Monroe periodontist, the placement of dental implants is a central part of the work that Dr. Amato performs. In addition to traditional implant surgeries, he also offers the All-on-4 and Teeth-in-a-Day options which may be more appropriate for some patients. The ability to tailor his work to patient needs is something that Dr. Amato takes pride in and is part of his 25 years of success in the community. The staff at Dr. Amato's office welcomes people to stop by and visit their location or to visit the patient center of their website to get valuable dental health information.
About The Practice
Dr. Richard Amato is a Periodontist and Dental Implant Specialist who provides the most advanced technology for his patients in Monroe, Connecticut. He has placed thousands of dental implants since 1989. Dr. Amato graduated first in his class with a DDS degree from Stony Brook University. Dr. Amato then completed a full time multi-year specialty residency and received his Certificate of Proficiency in Periodontics from Eastman Dental Center at the University of Rochester. He is part of one percent of dentists in the USA providing the LANAP® FDA cleared laser procedure for gum disease treatment. Dr. Amato is the first and most experienced dentist to provide LANAP® therapy in Fairfield County Connecticut. To learn more about Dr. Amato and his dental services visit his website at http://www.connecticutperiodontist.com and call (203) 712-0917.