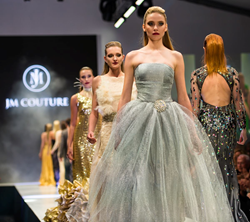 The collection is about making your own life worthy of its own runway.
Palm Springs, CA (PRWEB) March 27, 2014
The much-anticipated launch of JM Couture's "Life Is a Runway" Collection marched down the catwalk to raves at the recently concluded 9th annual Fashion Week El Paseo™ in Palm Desert. To drive home his point, designer and CEO Jim Mullin rolled out the entire range of the luxury lifestyle brand's lines: the JM Couture signature collection, JMC ready-to-wear collection, Remix (denim), Swim and Privé (intimate apparel) collections. Stand out pieces included a plethora of striped and dotted, checker board and pop art dresses, glittering cocktail numbers, sexy denims and swimwear, and corset structured lingerie. But the undeniable showstoppers were the red carpet-ready goddess gowns in scarlet, gold, and a range of jewel tones, with lush embroideries and beadings.
According to Jim, "The collection is about making your own life worthy of its own runway. I wanted to show the many aspects of modern living as a fashion experience. It's a little bit sexy with a dash of attitude, sleek and sophisticated, and totally timeless." He adds, "It certainly was a thrill to have been a part of this fashion week event. We really wanted to deliver a collection with a distinct West Coast sensibility that translates on a nationwide and global scale." As the presenting sponsor, the brand was a major highlight of the seven-day style spectacle and drew a capacity crowd of the West Coast's fashion, entertainment, society, and local community leaders. The unveiling of JM Couture's launch collection also served as a prelude to the launch of the online store as well the flagship store in El Paseo, which is reportedly the first in a series of successive branches to open in different locations throughout the rest of the year.
About JM COUTURE
A subsidiary of the Saxony Group, JM Couture was founded by Jim Mullin as a total lifestyle brand encompassing designer ready-to-wear, casual, denim, swimwear and intimate apparel. Jim was a successful entrepreneur who had originally conceived a platform for his multiple creative endeavors that included fashion design, photography and music. Upon partnering with Les Walgreen (of the legendary Walgreen drugstore family), he developed the concept further into a full-fledged fashion company and joined the Saxony Group to further expand JM Couture Nationwide. http://www.jmcouture.com/
ABOUT MANNFOLK PR
Cited among the country's most dependable public relations agencies by Women's Wear Daily, MANNFOLK PR has offices in New York and Los Angeles with a showroom located in the heart of Hollywood for convenient celebrity access. The agency specializes in representing a dynamic range of fashion, beauty and lifestyle brands looking to heighten their visibility in a competitive media environment. In its extensive history, Mannfolk PR has helped launch and establish many now well-known brands including American Apparel.Chaz Dean's WEN Hair and Body products and others.