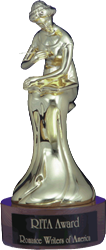 Houston, Texas (PRWEB) March 27, 2014
Romance Writers of America® (RWA), the trade association for aspiring and published romance fiction authors, announced the finalists for the 2014 RITA® Awards on March 26. The RITA — the highest award of distinction in romance fiction — recognizes excellence in published romance novels and novellas.
Up to 2,000 romance novels and novellas from 10 different categories are judged each year in the RITA competition. After the first round of judging by fellow published romance authors, all entries with a minimum total score of at least 90 percent of the total possible score advance to the final round. The 2014 RITA winners will be announced at an awards ceremony on July 26 at the 2014 RWA Annual Conference in San Antonio, Texas.
The list of finalists can be found on the RWA website at http://www.rwa.org/2014finalists.
###
Romance Writers of America's mission is to advance the professional interests of career-focused romance writers through networking and advocacy. Romance fiction is a $1 billion industry, and it's a consistent, top-performing category on the best-seller lists. To learn more about romance fiction and RWA, visit http://www.rwa.org or call 832-717-5200, Ext. 122.