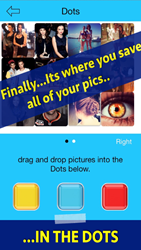 InstaDots can dramatically shrink the space required to back up your devices with iCloud.
Nashville, TN (PRWEB) March 27, 2014
InstaDots for Instagram offers the Instagram community a unique experience never before seen on the app store. In an article presented by Macworld, device memory is usually consumed mostly by photos from the users camera roll. Also, device photo stream will only accommodate 1000 photos taken or saved in the last 30 days. Keeping this in mind, BadApp Studios has provided a bit of relief for this devices that are running low in energy, therefore not performing at optimum levels.
The app introduces an alternative to saving pics from Instagram to the device camera roll. Instead, InstaDots provides the user with three brightly colored dots that the user can drag and drop any photo they choose (either personal photos or photos in feeds from others) into these dots for storing. User can tap any of the three dots to reveal all of the photos that have been placed there previously. The unique dot concept and the colorful, pastel iOS7 inspired graphics present an enhanced user experience for users as they navigate through Instagram just as if they were in the native Instagram app.
Instadots also offers the following built in functionalities: standard batch downloading, ability to repost, like, follow, save, and share the users own photos as well as photos posted by others. Along with the previously mentioned features, the app has a built in photo editor for the user to edit and repost the photos they choose, or they can simply share them by message, email, on Facebook or on Twitter. The app will debut on the app store on March 27th at a price point of .99 cents.
BadApp Studios is based in Nashville, TN and has been committed to developing apps that are designed to preserve device memory and keep the native camera roll free of downloaded photos coming from other apps. BadApp Studios currently manages Snap Vault for Snapchat, as well as the soon to be released SnapBase for Snapchat, set for release March 27th on the app store. Bad App Studios also created the Shelfy family of apps (Shelfy for Snapchat and Shelfy for Instagram) which are both set for release April 3rd on the app store.