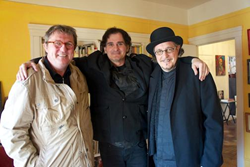 "This outlaw hero is someone to cheer for."—Foreword Reviews on Alan Kaufman's Drunken Angel
(PRWEB) March 27, 2014
Alan Kaufman, son of a survivor of the holocaust, will share his experience of traveling the Alps with two men whose fathers served as SS soldiers. The three poets will speak at the Goethe institute this Friday, discussing not only the careers of these amazing individuals, but recounting the journey they made together.
When Alan Kaufman, author of the memoirs Drunken Angel (also in audio) and Jew Boy, received an offer from an Austrian publisher to translate four of his books into German, followed by an invite to appear in the prestigious Sprachsalz Literary Festival in the Austrian Alps in 2013, his thoughts lead to a series of letters that his mother had written to him in which she recounts in harrowing detail her childhood experiences in the Holocaust: her escape from a deportation of Parisian Jews bound for Auschwitz, her flight to Italy, and her hiding in the mountains among Italian partisans, who saved her life. Kaufman decided to accept the festival invitation and after the event, he would somehow retrace his mother's journey.
After his appearance at the festival, the organizers and his Austrian publisher decided that they would personally assist him in finding his mother's hiding place, using her letters as their reference guide.
Kaufman, who was born and raised in the Bronx, has text and images of an astonishingly moving letter from his mother, which describes in chilling detail the round up of Jews in Paris in 1942. He also has an image of his mother's papers after the war that identify her as a Holocaust survivor.
Heinz D. Heisl and Elias Schneitter, the sons of former SS officers, personally drove Kaufman through the Swiss and Italian Alps to the remote region of Demonte, to a tiny hamlet called San Pons, where they found not only the hiding place exactly as described in the letters, but relations of the very family that had saved his mother's life. En route, the two Austrian authors confided to Kaufman that their own fathers had been, respectively, a member of the SS and a soldier in the Wermacht.
Join Alan Kaufman, Elias Schneitter, Magdalena Kaus and Heinz D. Heisl on March 29th, 7PM, at the San Francisco Goethe Institute.