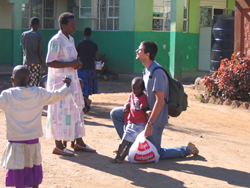 Our runners are helping raise money and awareness for great education projects around the world.
Philadelphia, PA (PRWEB) March 28, 2014
The Endeleo Project, a non-profit organization that aims to increase access to education for vulnerable populations, is fielding a team of runners at this weekend's Love Run half marathon in Philadelphia. Among the team's runners are David Hersh and Maureen Holland, two Temple Law graduates who founded The Endeleo Project in 2008.
"Endurance races are a great way to raise awareness about the great work our partner organizations are doing," said Hersh. "We set a fundraising goal and our runners are doing a great job of helping us achieve it."
The Endeleo Project currently works with three education organizations around the world. VISPA, its first partner, is an orphanage and school in southwestern Kenya. Its second partner, The Barrio Planta Project, provides supplemental schooling to poor children and adults in Nicaragua. Face to Face Germantown, The Endeleo Project's newest partner and its first in the United States, provides a broad array of services to the under-served residents of the Germantown neighborhood of Philadelphia.
The fundraiser will help fund education projects for each of these three organizations. For example, The Endeleo Project hopes to finance a back-to-school program for Face to Face and the purchase of farm land for subsistence farming and vocational education for VISPA.
This race is just one part of a much larger campaign that will culminate with an Ironman-distance triathlon in Atlantic City on June 30th. Says Hersh, "We are extremely grateful for the support of our runners and all the people who have contributed to them. Hopefully our success with the Love Half Marathon will translate to the triathlon in June."
The Endeleo Project is currently recruiting triathletes for its next race. Further details on their current campaigns can be found on their Crowdrise page. For general information about The Endeleo Project, its partners, and its unique focus on transparency, visit their website at endeleoproject.org, follow them on twitter @endeleoproject or Like them on Facebook at facebook.com/theendeleoproject.