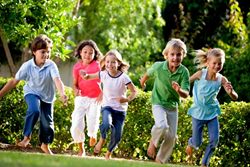 (PRWEB) March 26, 2014
Only 25 percent of America's adolescents engage in 60 minutes of daily physical activity as national health experts recommend. This new statistic, recently released by the U.S. government, saddens the cofounders of Children's Obesity Fund, Dr. Michael Omidi and his brother Julian Omidi. The study confirms what many feared, that the increasingly sedentary lifestyles of Americans is taking a toll on the health of our population, children and adults alike. (http://www.usatoday.com/story/news/nation/2014/01/08/physical-activity-adolescents/4342773/)
"Physical activity behaviors in childhood often continue into adulthood, which portends that obesity struggles may become a lifelong issue for many," according to Dr. Michael Omidi, cofounder of Children's Obesity Fund. "If America is going to become a healthy and happy nation again, we've got to realign our priorities and get moving. Our focus on sedentary activities such as television and video games must change and parents need to step up and set a good example of a balanced and active lifestyle for their children. When you have 75 percent of children living in an unhealthy way, it's time to do something."
The one-in-four statistic comes from a query of 800 young people asked to report the number of days they engaged in 60 minutes of physical activity that increased their heart rate and made them breathe hard some of the time. Respondents were instructed to include time in PE class, organized sports, and physical activities they did on their own. Other statistical findings of interest include:

60 percent of boys and 49 percent of girls were physically active for at least 60 minutes on five days or more each week.
Basketball is the most popular physical activity for boys and running is the top activity chosen by girls.
8 percent did not engage in 60 minutes of physical activity on any day of the week.
Physical activity is an essential component of a healthy lifestyle by helping to control weight, building lean muscle, reducing fat, promoting strong bone, muscle and joint development, and decreasing the risk of obesity. It is so important that one of First Lady Michelle Obama's main initiatives is the Let's Move! campaign (http://www.letsmove.gov). The First Lady's goal is solve the challenge of childhood obesity within a generation so that children born today will grow up healthier and able to pursue their dreams. For those who consider the hour a day activity guideline as high, Let's Move! challenges Americans to consider that eight to 18 year old adolescents spend an average of 7.5 hours a day using entertainment media including TV, computers, video games, cell phones and movies in a typical day. Children's Obesity Fund is actively searching for organizations that are working to combat sedentary lifestyles in the United States. Children's Obesity Fund is accepting grant applications and suggestions. Please email any suggested organizations to info(at)childrensobestityfund(dot)org.
Co-founded by Julian Omidi and Dr. Michael Omidi, the Children's Obesity Fund (http://www.childrensobesityfund.org) hopes to help reverse the trend of rising obesity rates in America. The goal of the non-profit charity is to help people fully understand the obesity issue and its dire impacts on individuals and society as a whole -- and to use that knowledge to encourage children to grow up strong and healthy. Children's Obesity Fund partners with other organizations to educate and support parents, educators and others so that we can all work together to raise healthy, active, social, and happy children. While the organization does not accept donations, it does encourage direct contributions of money and talents to the associations featured on our website. Children's Obesity Fund is on Facebook as well as Google+, Twitter, and Pinterest.