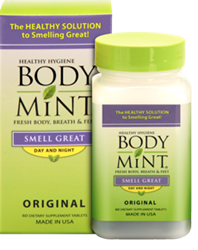 Oahu, HI (PRWEB) March 27, 2014
A Body Mint USA spokesperson announced the complimentary shipping option and said, "Our Auto Delivery customers already receive great deals and now the shipping adds even more value to the Auto Delivery program."
In addition to complimentary shipping, the Auto Delivery program offers members reduced pricing on all bottles of Body Mint. Each shipment also arrives on a regular basis and is automatically shipped to the member's home. Auto Delivery also gives members access to exclusive deals and Body Mint USA representatives are quick to point out that there is no membership fee and customers can opt out of Auto Delivery anytime they choose.
Since its arrival on the market Body Mint has proven to be one of the more popular supplements available. The product is designed so that just one capsule, taken daily, will prevent various types of odors that occur throughout the body, including odors from sweat and breath odors. Body Mint through its active ingredient chlorophyllin works from within to stop odors from occurring, and the supplement contains no harmful chemicals.
More information about Body Mint is available at http://bodymint.com/. Company representatives are also available via phone at 1.866.263.9646. Body Mint also has a presence on Facebook, Twitter and YouTube and when visitors go to the Body Mint website they are able to chat live with an expert on the product.
About Body Mint-USA LLC
Body Mint-USA, LLC is a subsidiary of Hawaiian Organics, LLC. The company was founded in 1997 with the mission to research and develop unique and healthy products that enhance the quality of life. Body Mint is Hawaiian Organic's first and most successful product. Body Mint is a natural, ingestible body and breath deodorizing/freshening tablet that is basically a deodorant in a pill.
To learn more contact:
1.866.263.9646
http://bodymint.com