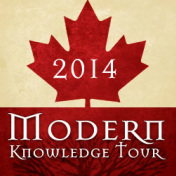 The Modern Knowledge Tour is to be a catalyst towards opening the door for the millions of Canadians who support the 'Truth movement'.
Toronto Ontario (PRWEB) April 02, 2014
[ZNN] The ZlandCommunications NewsNetwork has learned that radio show host and Martial Arts Instructor David Whitehead and research analyst and event coordinator Christopher Russak are spearheading a unique series of public events that are aimed to engage the population with a shocking and informative look into our societal paradigms.
According to sources at the Modern Knowledge Tour's gala announcement event held in January in Toronto - this bold cross-Canada tour will engage audiences in eleven Canadian cities.
The Hon. Paul T. Hellyer former Canadian Minister of National Defence, who addressed the audience at the gala event, delivered a stern warning to politicians to fix the problems they have created or suffer the political consequences for their continued non-action.
As stated by co-ordinator Christopher Russak, "This is a monumental time for Canada in many respects, as we embark upon a national tour spreading unbiased knowledge and perspectives on 'truth' and the concepts and paradigms that lay within this truth."
According to David Whitehead, the aim of the tour is to be a catalyst towards opening the door for the millions of Canadians who support the 'Truth movement' and who would like to take independent thought to a new level of awareness.
The topics presented on the Modern Knowledge Tour challenge individuals to re-examine their history, reality, and will open doors to new discovery along the way.
Modern Knowledge Tour topics and areas of current research include:

Science and Spirituality
Genetically Modified foods and Health
The Science of Light
Government Disclosure
Solutions for a world of sustainability
Esoteric Agenda
Banking and Corporate Fraud
Empowered and Sovereign Humanity
Spirituality and Consciousness
Taxonomy of Extraterrestrial Entities
Biblical Archeological Revised History
Megaliths and Giants of North America
Black Projects - Follow the Money
The Science of UFO's
And many more topics that are of great consequence for the evolution of human thought.
The tour will visit the following 11 cities in Canada between May 24th and June 15th, 2014:
Halifax – Charlottetown – Moncton – Fredericton – Montreal – Ottawa – Toronto
Winnipeg - Regina – Calgary – Vancouver
Speakers participating in this cross-Canada tour include:
Michael Tellinger – Richard Dolan – Stanton Friedman – Dr. Carmen Boulter - Michael Tsarion - Jim Mars – G. Edward Griffin – Grant Cameron – Linda Moulton Howe - Hugh Newman - Kerry Cassidy – Ralph Ellis – Santos Bonacci – Ben Stewart – Dr. Sam Osmanagich
Members of the print and web based media, radio and television hosts who may wish personal interviews with the event hosts or any of the appointed speakers may contact:
Christopher Russak at: modernknowledge2014(at)gmail(dot)com or by phone at 647-992-9940.
The ZlandCommunications NewsNetwork
Toronto ON Canada
A news service that takes you to the edge... and beyond.