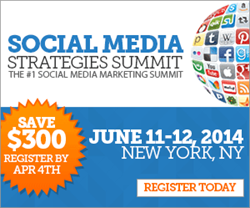 New York City, New York (PRWEB) March 27, 2014
The Social Media Strategies Summit (#SMSSummit) announces General Electric Corporate will present at its New York City event, to be held at the Bohemian Benevolent and Literary Association from June 11-12th, 2014.
Rich Narasaki, Global Digital Strategy Leader, will be presenting a session on social selling. Rich is responsible for commercializing digital across GE's eight business divisions through social, mobile, and emerging technologies. In his presentation, " The Holy Grail: Unlocking B2B Sales with Social Media," Rich will discuss how Social has become a viable channel for sales, and marketers must be able to unlock its commercial value. He will share how GE is using social media as a new channel to sell light bulbs to gas turbines.
SMSS NYC has also confirmed case studies and presentations from leaders such as Bloomberg LP, Mastercard, Brooks Brothers, and Prudential Financial.
To view the rest of the speaker line-up and the current agenda or to register for SMSS NYC, please visit: http://socialmediastrategiessummit.com/new-york-2014/speakers/.
The two-day event features four Collaborative Labs and over 15 learning sessions and case studies. SMSS provides attendees with the opportunity to meet and network with valuable business contacts, and learn what leading brands are doing within the social media space. SMSS NYC features case studies that will give attendees insights into how to align social media marketing efforts with their company's overall business and corporate strategies. The agenda includes dedicated tracks for marketers and social strategists responsible for Business-to-Business and Business-to-Consumer marketing. Attendees can learn more about the various sessions by viewing the agenda here.
To assure attendees get the full benefit of an intimate summit, we only offer a limited number of seats. Take advantage of our early bird registration deals to secure your seat. Register before April 4th and save $300! Group discounts are also available.
About General Electric:
General Electric, or GE, is an American multinational conglomerate corporation incorporated in Schenectady, New York and headquartered in Fairfield, Connecticut in the United States. The company operates through four divisions: Energy, Technology Infrastructure, Capital Finance and Consumer and Industrial.
About GSMI:
GSMI (http://www.gsmiweb.com/) is a leader in the industry of executive education, global conferences, summits, and training sessions that combine rich learning environments with the opportunity to network with today's most relevant thought leaders, speakers and practitioners. GSMI's annual events have reached 80% of the Fortune 500 companies, in over 30 countries, and cover topics that today's leaders find most challenging and inspiring.