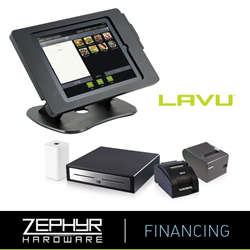 "...standard point of sales are just too expensive when you are first getting started."
Albuquerque, NM (PRWEB) March 27, 2014
Opening a new restaurant or improving an existing location can be costly. Renovations and upgrades can easily develop to be more than expected. This is where Zephyr Hardware's financing options come into effect. The majority of a restaurants budget is spent on supplies, labor, and getting the business up and going. What's left over is used for final purchases like a point of sale system. Vickie Danahy, owner of Vickie and Tim's Pub and Grub, noted, "I did look into a point of sale initially and the standard point of sales are just too expensive when you are first getting started. So I did a lot of research and found Lavu iPad POS." Lavu is an affordable option, but financing offers a solution without even this upfront capital expense.
When asked about the financing solution, Steve Brown, Managing Partner of Zephyr Hardware said, "Financing isn't unique in and of itself. What is unique in this scenario is the technology platform behind the financing that will enable customers to fill out an online application and get an instantaneous pre-approval."
Brown continued with, "From there the paperwork is electronic. Historically financing is an extremely slow process that requires a lot of back and forth. This speeds the process tremendously and eliminates a lot of the red tape."
Zephyr has unveiled the first real-time financing decision engine in the iPad POS industry. This decision engine will allow virtual and almost instant credit decisions, while facilitating the point of sale financing and funding in as little as 24 hours. The financing covers Lavu iPad POS software, the hardware, and related services to meet industry standards.
"We want to offer any customer a cutting-edge solution, on any size budget," said Brown. He added, "The need for speed in today's digital world requires us to offer a financing solution just as quick and easy."
The process is simple. A client or company in need of financing accesses Zephyr Hardware's finance portal. After a few short forms, a decision is made in seconds. If approved, Zephyr Hardware will provide a custom program for a short or long term financing objective. Upon confirmation, an e-signature finalizes the deal and funding is approved for the point of sale selection.
About Lavu Inc.
Founded in Albuquerque, NM and operating worldwide, Lavu, Inc. was formed as a solution to common point of sale problems and restaurant industry issues. Lavu iPad POS also serves niche industries including Bars, Food Trucks, Pizza, and even full-scale Chain Restaurants.