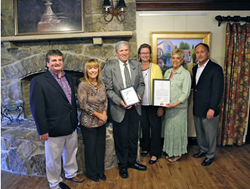 2014 Bliss Award™ Winner for Best Tennessee Community of the Year
Knoxville, Tennessee (PRWEB) March 27, 2014
Stop number two on Real Estate Scorecard's research trip in Tennessee took them to their 2014 Bliss Award™ winner for Best Tennessee Community of the Year - Rarity Bay on Tellico Lake. After spending two days inspecting the amenities and attending informal meetings with members of the Board of Directors and Community Leaders, their visit ended with the formal presentation of our Bliss Award™ to the Rarity Bay property owners, but they were not alone.
A number of honorary dignitaries were there to support Rarity Bay. Tennessee State Senator Randy McNally, Tennessee State Representative Jimmy Matlock, Mayor of Monroe County Tim Yates, Mayor of Loudon County Estelle Herron and Mayor of Vonore Larry Summey were all in attendance. Senator McNally and Representative Matlock brought with them a surprise, the Senate Joint Resolution No. 632 document recognizing Rarity Bay as the 2014 Best Tennessee Community of the Year signed by Tennessee Governor Bill Haslam.
Rarity Bay was chosen for a Bliss Award™ because of the high quality of life and friendliness of the community. Real Estate Scorecard had been optimistically cautious over the years and discovered from the recent property owner reviews, this is the exact type of neighborhood people long for in a retirement location. A warm friendly place to call home with lots of things to do. Property owners scored Rarity Bay 94 out of 100.
Rarity Bay is a distinctive French Country-inspired gated neighborhood on Tellico Lake. Homes are impressive with stone and brick exterior finishes, dramatic rooflines and soft colors. There are approximately 10 homes under construction with another 10 in the architectural review or permitting process. One of the newly built homes we toured was featured in October during the Knoxville Parade of Homes and won the award of "Best Home" in the "Over $1 Million" category, as well as three other awards in that category (best kitchen, best bath and best outdoor space).
Approximately 450 homes have been built to date of the 1,600 planned at this refined lake neighborhood. Rarity Bay re-sale homes begin in the $300k's and easily exceed $1 million. Real Estate Scorecard knew Rarity Bay was a trophy property the first time they visited it in 2009. Set on a peninsular and surrounded by the Little Tennessee River, the Great Smoky Mountains views at Rarity Bay are one of a kind. Most of the lakefront homes are situated across from the TVA's protected wildlife preserve which will never be developed. The topography was modified in a way to provide expansive viewing corridors down to the lake and a spacious open feeling.
Real Estate Scorecard states It's funny to listen to the friendly debates between property owners arguing which amenity they feel is the best. Is it boating on 16,000 acre Tellico Lake, Rarity Bay's golf course or the equestrian amenities? One thing they do unamimously agree on, friendliness is a culture at Rarity Bay.
Rarity Bay's equestrian amenity is the first thing seen after passing through the gated entrance. Gorgeous horses roaming freely within 10 chocolate colored fenced pastures next to the equestrian center, a scene you'd expect to see in Aiken South Carolina or Ocala Florida. The 16 stall equestrian center provides full boarding services, trail rides and riding lessons. The equestrian center is still controlled by a bank. Approximately 75% of the horses boarded at the Equestrian Center are owned by Rarity Bay property owners.
Real Estate Scorecard had the chance to play Rarity Bay's golf course. They state the course is fun to play and is moderately challenging. They enjoyed the wonderful long range views of the Great Smoky Mountains and close range views of Tellico Lake from the course. The French Country-inspired Rarity Bay Golf Clubhouse is gorgeous inside and out and is open every day for breakfast and lunch. On Tuesday's and Friday's, the clubhouse is open for dinner.
At the moment, anyone can play the Rarity Bay golf course and dine at the clubhouse without being a member. On May 3, 2014, things are set to change when the golf course and clubhouse are sold at the court appointed auction. It's anyone's guess who will be the proud new owner of the Rarity Bay golf course and clubhouse. An investment group, golf resort management entity or a savvy group of Rarity Bay property owners?
In Real Estate Scorecard's opinion, the Rarity Bay Board of Directors are conservative and a fiscally responsible group of people. Annual POA fees are currently $686 per year and the community has approximately $400k in liquid cash reserves. There have been no special assessments since 2010. Compared to similar communities, we feel Rarity Bay is a bargain! A round of golf will cost you about $33. Joining the Rarity Bay Yacht Club cost $10 a year. A community comprised of mostly successful retired professionals, Rarity Bay property owners are quick to volunteer as consultants and advisors when the needs arise to shop insurance costs, sewer management systems, road maintenance and so forth saving the community thousands of dollars.
It would be easy to suspect a cliquish country club crowd in this affluent neighborhood sizing each other up by their bank balances. Real Estate Scorecard found the exact opposite. Rarity Bay property owners are a group of warm, kind and very friendly people who never ask what you've done for a living. A group of givers and smilers. They love their neighborhood and want to be a part of everything around them. To Real Estate Scorecard, the Rarity Bay Women's Club is a 'lighthouse' guiding the community and bonding them together. There are dozens and dozens of self organized clubs and groups sharing interests on a weekly and monthly basis.
Real Estate Scorecard attended their first Yappy Hour at the Rarity Bay Dog Park which takes place every Friday at 5:00pm. The dog park has two new covered pavilions and dog art sculptures throughout the park. The dog park is another social hot spot in the neighborhood. There are more than 50 members of the dog club and 73 adorable pooches. Folks at Rarity Bay love to get together. Whether it's a sunset cruise on the lake, line dancing at the clubhouse or as volunteers in the community, Rarity Bay property owners are active and see each other as an extension of their families.
Real Estate Scorecard states it was a pleasure to spend time at Rarity Bay and experience the warmth and love in the community. They look forward to the next chapter for Rarity Bay and are proud to recognize the community as our 2014 Bliss Award™ Winner for Best Tennessee Community of the Year.
To tour Rarity Bay and learn more about the neighborhood, contact Karen Millikan of On the Lake Realty at 423.519.3258.
About Real Estate Scorecard:
Real Estate Scorecard writes unbiased real estate reviews providing in-depth information about popular gated communities in Florida, Georgia, North Carolina, South Carolina and Tennessee, all in an effort to help people discover where to retire in the Southeast.
Website: http://realestatescorecard.com