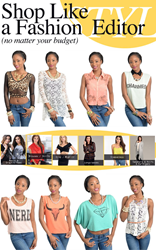 All Designer Wear to Let You Remix Your Style
Los Angeles, CA (PRWEB) March 27, 2014
One of the internet most popular apparel wholesalers, Wholesale Fashion Square, has announced that they're expanding their site to offer new club wear apparel, along with new, high quality jewelry items.
"We're always looking for new and innovative ways to expand our selection. We go the extra mile by maintaining a finger on the world's fashion pulse, so we can be sure to add items that reflect all of the current trends," explained Edita Kremerman, owner of WFS adding, "We have received several requests for high quality jewelry items and club-style fashions. You asked for it and now, we've added to our selection to include these items!"
Wholesale Fashion Square's new club wear section includes a range of different dresses and tops that are sure to turn heads on your next night out on the town. And in staying with their commitment to affordable wholesale prices that allow for maximum profit, these new club wear apparel items are priced to move.
High quality jewelry items are also among the newest additions at Wholesale Fashion Square. These new baubles include necklaces, watches, classic jewelry pieces, chain accessories, bracelets, luxury jewelry items, rings, brooches, earrings, body piercings, anklets and toe rings. There's even a section of deeply discounted jewelry items that are priced to sell.
These newest additions come in time for the release of Wholesale Fashion Square's new Easter styles, with lots of pastels and frills, spring apparel with cheery floral, and plenty of bright tangerines and marigold hues, along with a range of prom dresses just in time for the Spring 2014 prom and semi-formal dance season.
A web-based wholesaler, Wholesale Fashion Square has apparel in a wide range of different styles, from classic and office-friendly, to chic, trendy, formal and beyond. Their offerings include plus sizes too.
Other recent additions to the site include an Editor's Picks section, a new Styling Accessories line of offerings and a Flash Sales section with incredible daily deals which are available at a steep discount.
In addition to low prices and deep discounts, Wholesale Fashion Square offers promo codes, which are available on-site and via their email newsletter. The site also offers same day shipping, with a 12:00 noon PST cut-off time.
To learn more about Wholesale Fashion Square, visit http://www.WholesaleFashionSquare.com.