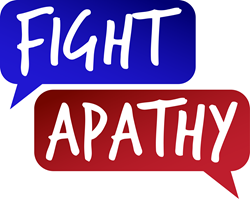 I Believe In...
(PRWEB) March 27, 2014
75,000 students from high schools in 21 states and 2 territories are participating in the Fight Apathy Campaign March 24th-28th sponsored by the Junior State of America (JSA), a non-profit organization that promotes civic education and political discourse. The national campaign is working to raise awareness and start discussions about political issues, and is also partnering with Rock the Vote.
The entire campaign has been completely planned and led by high school students.
At a Fight Apathy event, students pick up stickers when they enter the school, by the main entrance, cafeteria, homeroom, or another convenient location. The stickers read "I believe in…". Participants write in something they are passionate about, anything from Marxism to Jesus, marriage equality to flat taxes. The stickers serve as catalysts to spark discussion about real-world and political issues throughout the day. The event is transformative—it will change the school environment for the entire day.
"The answers don't matter," said Andrew Plotch, the Campaign's Director and a high school senior from New Jersey, "It's all about getting students to voice their opinion."
The project began two years ago at the Bergen County Academies in New Jersey. Since then other schools in New Jersey have held similar events.
A student from Danville, Kentucky who participated in the campaign earlier this week described that "a sense of belonging was missing at Danville High School, though we had been striving hard to make it happen. Fight Apathy was exactly what my school needed to encourage students to speak up, break down social barriers, and most importantly, stand up for what they believe in."
Already well over 75,000 students are participating the week of March 24th, and the number of participants is expected to reach 100,000 by the end of the school year.. The strength of the youth vote has already been shown in recent elections. Now the strength of the youth voice will be displayed. This event will manifest itself on social media through the hashtag #fightapathy. Follow the story live in March and see the impact that students will have and the changes this discussion could lead to.
For more information or to find a Fight Apathy event near you, contact Emma Jackson at ejackson(at)jsa(dot)org or 859-319-7629. You can also find us on Twitter and Facebook.
On high school campuses across the country, there are students concerned with what is happening around them – students who are interested in politics and government, foreign affairs, the law and education. The Junior State of America (JSA) was created by and for these young people. Since its founding in 1934, more than 500,000 student members have become active, informed citizens through JSA. JSA is a non-profit 501 (c)(3) educational organization. © 2014 JSA. For more information, please visit our website, fightapathy.jsa.org or check out updates from the Campaign on Twitter and Facebook.