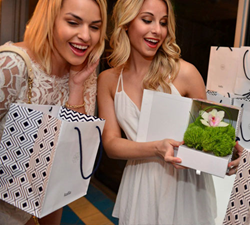 Our packaging is obviously an essential part of our brand experience, and [CRP's] expertise in this field has been crucial to the evolution and success of Kalla.
Seattle, WA (PRWEB) March 28, 2014
Kalla, an online white glove floral delivery service, has hit Miami just in time for spring. Kalla surpasses the traditional models currently in the market by providing a tasteful and elegant method to ship flowers. Rather than requiring the recipient to unwrap and set up their own floral arrangement, Kalla flowers arrive in pre-arranged bouquets bloomed to perfection – similar to the experience one might have when purchasing a bouquet in a local, high-end boutique. In addition to the floral arrangement, customers have the option of adding a bottle of wine and box of chocolates. In order to round out the unique delivery experience, Kalla partnered with Seattle-based agency CRP to develop a custom packaging structure that would "wow" customers upon arrival.
In the spring of 2013, Kalla approached CRP with a challenging proposition for a revolutionary concept in the e-commerce industry. The company was in search of a partner for the development of a packaging structure that would allow them to ship live material up to 30 pounds within a wide variety of climates. Additionally, the product needed to be a prime example of luxury and ingenuity, and arrive in pristine condition.
CRP worked with Kalla to develop the custom e-commerce packaging experience and collateral materials for the final product which includes envelopes, message cards, wine bottle wraps, and hang tags. The Kalla box has a swing-door opening that is secured with a magnetic closure. Inside is a drawer that contains a modular foam insert with a slot for the bouquet which can hold a variety of vase shapes and sizes, in addition to wine, chocolate, and message cards. CRP partnered with advertising and marketing agency R/GA to design the box exterior, which features geometric patterning and original artwork by Yang Yang Pan.
"CRP has been a critical partner in the development and execution of the Kalla brand. The entire team has been wonderful to work with and committed to finding solutions to difficult challenges," says Kalla CEO Hani Yassin. "Their dedication, from the conception of the brand, has been impressive and truly appreciated. Our packaging is obviously an essential part of our brand experience, and their expertise in this field has been crucial to the evolution and success of Kalla."
Kalla is currently available to residents of Miami, FL, and the company plans on expanding to several other major cities in the US in the upcoming year.
"We are extremely proud of the work we have done with Kalla and R/GA, and are very excited for the launch of this product," says Kathy Bintz, CEO of CRP. "This project exemplifies the breadth of our services and ability to collaborate on packaging design projects at various levels."
CRP is a creative agency with over 30 years of experience in the design and sourcing of custom packaging. The company's design division is based in Seattle, WA and specializes in brand development, graphic and web design. Sales and sourcing offices are located in Seattle, Houston, and Chicago. CRP also operates three regional distribution centers across the United States to support packaging distribution. More information about the agency, its partners and services can be found on their site at crpkg.com.