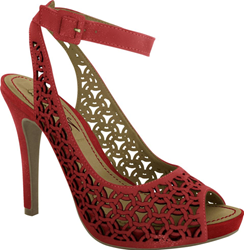 Los Angeles, CA (PRWEB) March 28, 2014
SOFIA Z Shoes challenges traditional high fashion footwear with a revolutionary blend of design and construction that provides high heels with the superior comfort of sneakers. The brand's extraordinary debut collection for 2014 finally delivers elegant 4-inch heels with a patent pending, lightweight cushioned insole footbed that cradles the foot in luxurious comfort for over 12 hours. The game changing shoe line is eliciting tremendous buzz for its technologically innovative craftsmanship that has been described to feel "like your feet are resting on pillows", and sophisticated, on-trend styles at accessible prices.
Headlining the must-have, "wear-it-to-believe-it" list are: Sofia, a curvy, sensual peep toe; Laura, an ankle strapped peep toe with intricate filigree cutout; Cristina, a high ankle boot in delectably supple chocolate leather with a buckle accent; Isabel, a timeless yet sexy open toe; the classic strappy Lena pump. The line also showcases a wide range of chic choices in pumps, open toes, booties and wedges, in neutrals and various colors such as eggplant, fuchsia, cobalt and red, cheetah and zebra prints. But even more impressive than these spectacular looks is the unparalleled attention that was devoted to the wearer's comfort. Each shoe has been subjected to strenuous testing that ensures efficient weight and pressure distribution, impact absorption and dampening, rear fatigue resistance, temperature regulation, stability, balance and traction, especially on uneven surfaces. And all the materials used, primarily the finest quality Brazilian leather, has been tested for flexibility, bending stress, breathability and durability.
According to founder and president Usha Patel, "Sofia Z is the ultimate solution to every woman's dilemma of wanting the kind of heels worthy of dramatic entrances for complimenting your designer dresses but doesn't compromise comfort. I love fashion and have looked far and wide for shoes that offered both. As a busy career woman, I am often running from one meeting to the next, one airport terminal to another. And because I'm an avid triathlete, I once field tested many comfort claiming heels to alleviate post-training pain to no avail. I just gave up and eventually decided to sit down and create one myself. And once I discovered the right mix, I actually proved my point by wearing Sofia Z shoes on a 5K run in under thirty minutes. They really feel like your feet are resting on pillows." Sofia Z Shoes are meticulously handcrafted in Brazil, in sizes 5 to 10, retailing from $200 to $350 and are available in boutiques nationwide as well as various online stores and on the website http://www.sofia-z.com.
ABOUT MANNFOLK PR
Cited among the country's most dependable public relations agencies by Women's Wear Daily, MANNFOLK PR has offices in New York and Los Angeles with a showroom located in the heart of Hollywood for convenient celebrity access. The agency specializes in representing a dynamic range of fashion, beauty and lifestyle brands looking to heighten their visibility in a competitive media environment. In its extensive history, Mannfolk PR has helped launch and establish many now well-known brands including American Rag, Chaz Dean's WEN Hair and Body products and others.