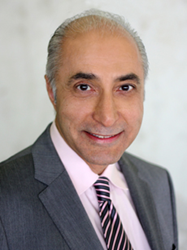 When dealing with issues such as food sensitivities or low energy, it's important to look at all aspects of a patient's digestive tract.
Beverly Hills, CA (PRWEB) April 02, 2014
Board-certified gastroenterologist Dr. Farshid Rahbar, of Los Angeles Integrative Gastroenterology & Nutrition, recently commented on a study claiming that nutrition is a key factor in digestive health. Presented at the Gut Microbacteria for Health World Summit in Florida, the study determined that nutrition ultimately influences a patient's health and overall digestive composition. If unhealthy or otherwise bad foods are consumed, a patient's digestive balance is disturbed, causing a number of disorders.
Utilizing a blend of holistic and traditional Western medicine, Dr. Rahbar offers his Los Angeles patients various treatments, including customized nutrition recommendations, to help deal with gastrointestinal problems that can arise from bad nutrition.
"At Los Angeles Integrative Gastroenterology & Nutrition, we realize the importance of looking at all aspects of a patient's digestive tract when treating a patient," says Dr. Rahbar. "The digestive system is the most diversified system in the body, and any nutritional issues with the digestive tract can have negative consequences elsewhere on the body."
At LA Integrative Gastroenterology & Nutrition, Dr. Rahbar and his staff of specialists offer patients nutritional services such as customized nutrition recommendations, nutraceutical supplements, and dietitian and lifestyle education to ensure that patients are informed about how nutrition can affect disorders throughout the entire body.
"As this study shows, bad nutrition can result in a variety of disorders and conditions," says Dr. Rahbar. "Chronic fatigue, acid reflux, and intestinal infections can all be the result of unbalanced nutrition. At LA Integrative, we provide patients with nutritional services on an individualized basis, ensuring that each patient receives treatment that is perfect for him or her."
Farshid Sam Rahbar, MD, FACP, ABIHM is a Los Angeles gastroenterologist at Los Angeles Integrative Gastroenterology & Nutrition. He incorporates anti-aging and functional medicine for an integrative-holistic approach to digestive care. His main clinical interests include: consultative gastroenterology, internal medicine, liver disease and inflammatory bowel disease (IBD), clinical nutrition, occupational and environmental illnesses in relation to GI illness, preventive and functional medicine, toxic exposure and effects on the GI system, medical-legal services (AME), and clinical research.
Beyond his excellent analytic results, Dr. Rahbar also delivers over 20 years of experience in technical aspects of gastroenterology, namely colonoscopy and endoscopy. In addition to his private practice, Dr. Rahbar is a member of La Peer Health Systems, an outpatient surgery center in Beverly Hills, CA.
To learn more about Dr. Farshid Rahbar and LA Integrative Gastroenterology & Nutrition, please visit: http://www.laintegrativegi.com.