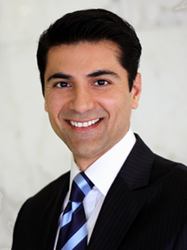 Full recovery of mobility is expected around three to four months after a hip replacement.
Beverly Hills, CA (PRWEB) March 28, 2014
A new study released by the 2014 Annual Meeting of the American Academy of Orthopaedic Surgeons has shown more than 7 million Americans are currently living with artificial knees and hips.
Rajan Patel, MD, is a board-certified orthopedic surgeon at the Joint Surgery Center of Excellence in Beverly Hills. "What's so important about this number," said Dr. Patel, "is that it shows how many Americans have been helped by joint replacement surgery. These are people who would otherwise be rendered immobile or forced to live with pain."
Hip replacement currently ranks among the most common of all joint replacement procedures. A total hip replacement involves a surgeon removing cartilage from the hip and replacing it with a prosthetic. Minimally invasive hip replacement can also be done to limit the amount of damage sustained to the surrounding tissue.
"Full recovery of mobility is expected around three to four months after a hip replacement," said Sonu Ahluwalia, MD, an orthopedic surgeon at the Joint Surgery Center of Excellence. "However, the prosthetic itself typically lasts fifteen to twenty years before revision surgery is needed. This gives the patient decades of pain-free joint movement that they could never have achieved before."
Knee joint replacements are also quite common these days. Patients undergoing a knee joint replacement may either have a complete or partial replacement.
"A total knee replacement removes the entire joint and replaces it with a prosthetic," explained Dr. Ahluwalia. "A partial joint replacement removes only part of the knee. This is used for patients with damage to an isolated area of the joint."
"Overall," said Dr. Patel, "joint replacement is a safe and effective way for millions of Americans to live their lives with less pain. It brings most patients a radical improvement in quality of life."
Rajan Patel, MD, holds two unique board certifications in orthopedic surgery and sports medicine, along with a fellowship in adult reconstruction. He is a member of the American Academy of Orthopedic Surgeons, American Association of Hip and Knee Surgeons, and Arthroscopic Association of North America. He is also Qualified Medical Examiner (Q.M.E) for the State of California Industrial Medical Council.
Sonu Ahluwalia, MD, is Board Certified in Orthopaedic Surgery and is a fellow of the American Association of Orthopaedic Surgeons. He is the Chief of Orthopedic Surgery at Cedars Sinai Medical Center and has privileges at Olympia Medical Center along with many ambulatory surgery centers, including La Peer.
La Peer Health Systems is an outpatient surgery center in Beverly Hills, founded by doctors and focused on providing excellent patient care alongside the most cutting-edge medical treatments available. With 50 world-renowned physicians in 14 specialties, comprehensive medical treatment is offered that takes patients from consultation to diagnosis, treatment, surgery, and ultimately aftercare. The 14 medical departments include orthopedics & sports medicine, gastroenterology, head & neck surgery, colorectal & general surgery, podiatry, ophthalmology, pain management, plastics & reconstructive surgery, gynecology, spine surgery, interventional cardiology, bariatric surgery, thoracic surgery, and anesthesiology. Unlike large hospitals, La Peer's unique structure offers extremely personal care in a safe and controlled environment.
To learn more about La Peer Health Systems, visit http://www.lapeerhealth.com.